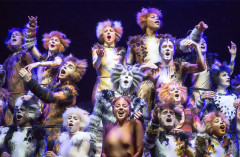 The latest Andrew Lloyd Webber production to be dragged out of the vaults and live screened to boost our morale is a film of the 1981 stage production of CATS.
Playing T.S. Elliot's Jellicle Cats is a starry cast including Elaine Paige, John Partridge, Jacob Brent, Jason Gardiner and Sir John Mills.
This is a much loved version, the one that started it all and that so many of us saw as kids. Hopefully it will eclipse the "Memory" (!) of the 2019 film which looks set to lose a staggering $71 million thanks to some brutal reviews.
What's more you can enhance your viewing by also streaming Andrew Lloyd Webber providing a free live commentary via his own YouTube channel! We're told the composer "will also be inviting fans to submit questions, which he will answer throughout."
What's the show about? Well, to quote the snarling Roy Cohen from the play ANGELS IN AMERICA "Cats? It's about cats!" They sing songs and one of them is picked to ascend to cat heaven.
This lovable load of old Jellicles will be available to watch for free all weekend here: