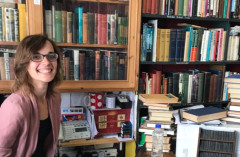 This week, West End Editor Josephine Balfour-Oatts talks Theatreland with Charlie Rosse, exploring some of London's lesser-known treasures.
Charlie Rosse is an up-and-coming author and arts journalist, better known on the Instagram-circuit as The Roaming Reader (@theroamingreader). As a prominent Bookstagrammer, Rosse also covers book-based theatrical adaptations, making annual appearances at the Edinburgh Fringe Festival.
Do you have a favourite theatre in the West End? If so, why?
I adore The Palace Theatre and its extravagant beauty. I have only been inside once, when The Commitments was running in 2013. As soon as I heard that Harry Potter and the Cursed Child was going in, I was a bit disappointed. I knew I wouldn't have the opportunity to go inside the theatre again for a long time. It is a gorgeous piece of architecture regardless - I walk past fairly often, and so am able to enjoy its magic from afar.
Which are your preferred spots for a pre-show meal?
It might sound weird, but I don't really like eating before a show. So I tend to grab something light - sushi or a salad or sandwich - from one of the many takeaway places in Soho.
Where is your post-show drinks haunt?
I attend a lot of matinees and don't really drink, so I usually take myself off for a cup of tea after a show. If it's a musical then I will head to The Theatre Cafe on Shaftesbury Avenue (I still haven't visited the new branch!). But if I am not in the mood for aggressively cheerful show tunes or if I have seen a particularly dark play, I will walk over to the National Theatre Cafe instead. I love the little garden up there too. It is the perfect place to decompress after a thought-provoking play.
Which of Theatreland's upcoming/ current productions are you most looking forward to?
I am still yet to see Dear Evan Hansen, which I have been desperate to visit long before its West End transfer. That soundtrack is something else; even on its own, it makes me emotional! I am also really curious about Frozen and can't wait to see Samantha Barks (who I saw at The Other Palace in The Last 5 Years) shine in a glitzy big-budget production. Is it strange that I am actually most looking forward to Elsa's quick change?
Top show to see right now?
Waitress at the Adelphi, without a doubt. It's uplifting and real and emotional and feminist and funny and has the most beautiful score. I am going again in a couple of weeks to see Sara Bareilles take on the role of Jenna. Having seen a different performer star with every visit, it will be so interesting to see what she brings to Jenna's character. Especially as she wrote the music.
Expenses aside, what would be your ideal day out in London?
I think my day would probably revolve around food because somehow whenever I am in London, I never have enough time to eat. I am always rushing around too much! So I would have breakfast at the Ritz and lunch at Duck and Waffle. I love stately homes so maybe I would have a poke around Strawberry Hill House or Osterley Park, and then in the evening attend the opening night (and after party) for a brand-new show. What a day that would be.
In your opinion, what is London's best-kept secret?
Its friendliness. London has acquired this stereotype of being unfriendly, with commuters scowling when one walks a bit too slowly, and everyone keeping themselves to themselves. But if you go to quieter corners of parks, cafes, restaurants, theatres, shops, museums and catch people in the right moment, you can meet the most interesting types. It's such a multicultural city with so many people from all over the world, making their home here. So pluck up the courage to smile and get into conversation with someone, it's always worth it. Although I don't recommed this on the tube. EVER.
On your days off, where are you most likely to be found?
Probably in a park with a cup of tea and a friend, having deep chats about the world we live in, theatre, books and life in general.
What is your fondest memory of the London theatre scene?
About a month ago, after a matinee of Mary Poppins, I had nipped to the stage door to catch up with Charlie Stemp (who I have known since I interviewed him a few years ago). As I was waiting, the door opened and who should appear but Kate Middleton with Prince George and Princess Charlotte in tow. There were no police, no cameras, no fuss and they were just a few steps away from me. It was the coolest, most unexpected experience and wonderful to see them in that very informal context. I also love that I can say that I have been to the theatre with the future King of England.
Where in London are you most happy?
In bookshops. The second-hand ones on Charing Cross Road are my favourite. I can't walk out of Henry Pordes without something sneaking into my bag, I somehow always find a book I need.
What's next on your agenda?
I recently completed a novel about a girl who, after failing to commit suicide, has to find her way back to balancing the bad with the good so she can live again. It's emotional and slightly dark, but also positive and vibrant - a reminder of what is important in life. And also it's very topical, particularly now that society is embarking on this initiative to be open about mental health issues. So I am editing that and trying to find a literary agent for it. Alongside which I am beginning work on a new book. All very nerve-wracking and draining. But exciting too.