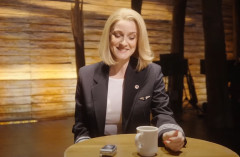 Twenty years ago, on 11th September 2001, the twin towers of the World Trade Center fell and the world changed forever. The winner of every major Best Musical award, Come From Away tells the inspiring true story of 7000 stranded air passengers and the small Newfoundland that welcomed them in. Now there's a new music video starring Alice Fearn singing the magical show tune, 'Me and the Sky', created especially for the West End production.
Who's involved in Come From Away?
Everywhere this show lands, it sells out and breaks records. Alice Fearn comes fresh from her role as Elphaba in Wicked, and she's also a TV star as well as appearing in a raft of popular movies. The show tune is magical, the video is inspiring, and Alice's voice is just gorgeous. Here's the low-down. If you haven't seen Come From Away yet, you can buy tickets from us.
Alice Fearn's theatre triumphs include The Woman in White, Les Misérables, Awaking Beauty, Annie Get Your Gun, Into the Woods, Shrek The Musical, Dirty Rotten Scoundrels and Oliver!
Her television work includes EastEnders and the BBC's Tonight's the Night
Film credits include Les Misérables, Sweeney Todd, Mamma Mia!, Alice in Wonderland, How to Train Your Dragon, Robin Hood, Pirates of the Caribbean, Frankenweenie and Life of Pi
Alice has made a number of Workshops special including The Umbrellas of Cherbourg, Jason and the Argonauts, Bridget Jones the Musical, Easter Parade, Catch Me If You Can and Footballers Wives the Musical
She has also worked on Michael Ball: Both Sides Now (UK tour) and If Everyone Was Listening (UK tour), All That Echoes (UK tour) and Songs from the Heart (UK tour)
Alice's album Where I've Been, Where I'm Going is available on iTunes
Buy Come From Away Tickets
Book your Come From Away tickets online with us and choose the best seats with our Phoenix Theatre seating plan. We'll send E-tickets direct to your email address – just show them at the door on the day.
About the Phoenix Theatre
The Phoenix Theatre is an Art Deco classic dating back to 1930. The first show staged at the venue was the premier of Noel Coward's popular comedy Private Lives, starring Coward himself and Laurence Olivier. The venue was built for Baron Bernstein, who founded the Granada TV channel. Past shows at the Phoenix Theatre include Blood Brothers, Bend It Like Beckham The Musical, Gary Barlow's The Girls, and Chicago The Musical.