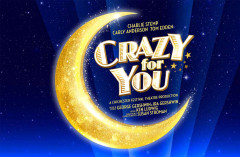 Susan Stroman, the respected Broadway director and choreographer, has announced an acclaimed UK revival of the musical comedy Crazy for You, packed with George and Ira Gershwin songs. It will transfer from the Chichester Festival Theatre to the Gillian Lynne Theatre for a strictly limited 30 week West End season from 24th June 2023. The opening night is 3rd July.
Who's involved in Crazy For You
Stroman won the Tony Award for Best Choreography when Crazy for You opened on Broadway in 1992, directed by Mike Ockrent, who co-conceived the show with Ken Ludwig, writer of the original book. The show won the Best Musical Tony and also the Olivier Trophy when it moved to London way back in 1993. This production, starring Charlie Stemp and Carly Anderson, played to full houses during its two month summer run at Chichester.
Ken Ludwig has added modern touches to the book and cut 15 minutes from the running time
Carly Anderson brings a contemporary edge to the role of Polly Walker
Anderson played Glinda in international tours of Wicked
She was also a key cast member of Sunny Afternoon, with music and lyrics by Ray Davies of the Kinks
Charlie Stemp plays the Broadway wannabe Bobby Child
Bela Zangler is played by Tom Edden
Stroman has re-thought her choreography for Stemp and Anderson to "show them in their best light and show the audience everything that they could do."
Matthew Craig, who played Lank Hawkins at Chichester, also transfers
The Producer is Michael Harrison
Set design is by Beowulf Boritt
Costumes by William Ivey Long
Lighting design by Ken Billington,
Musical direction by Alan Williams
Sound by Kai Harada
The rest of the cast will be announced nearer the time
Buy Crazy For You Tickets
Buy cheap Crazy For You tickets from us for great customer service. Pick the best views using our detailed Gillian Lynne Theatre seating plan. Then show your etickets at the door on the day – it's so simple.
About the Gillian Lynne Theatre
The Gillian Lynne Theatre is named after the legendary choreographer and director Gillian Lynne, who created the breakthrough choreography for Cats when the venue was called the New London Theatre. Upcoming shows at the Gillian Lynne Theatre also include The Lion, The Witch and the Wardrobe and The Lehman Trilogy.