Quick Facts
Largest Ticket Inventory
in the West End
Real time
seat availability
Choose
your seats
Your booking is processed directly into the box office reservation system
This show is now closed.
The Lehman Trilogy
Tickets
4.7/5
-

based on

32

reviews
Starring: Adam Godley, Ben Miles, Simon Russell Beale
About The Lehman Trilogy
Performance Times
Starring:
Adam Godley, Ben Miles, Simon Russell Beale
The Lehman Trilogy description
The Lehman Trilogy – How to trash an entire planet's economy
What killed the world's economy in 2008? Bad lending, poor financial practices, greed, stupidity, short sightedness... and the Lehman Brothers' bank. Now we're enjoying the theatrical fallout in the shape of the National theatre's The Lehman Trilogy, which transfers to the West End after a sell-out run at the Lyttelton.
On a chilly September morning in 1844, a young man from Bavaria stands at New York's docks. He's dreaming about the new life that awaits him in the new world. When he's joined by his two brothers, a remarkable story starts. 163 years later, Lehman Brothers collapses into spectacular bankruptcy, and the biggest financial crisis in history begins.
The financial crisis is still going on. We're still suffering under austerity measures. The banks are still doing what they always did, regardless, and the taxpayer has footed the bill. We need this play, if only to remind those in power about the danger of hubris.
It's a 'vast and poetic' play that's proving remarkable popular, maybe because people are still reeling from the crisis. As The Guardian says, it's an, "astonishing evening! Engrossing play and an acting masterclass". The Times gives it four stars, saying it is, "Theatre at its best." The Stage says it's a "Spectacular saga magnificently performed by Simon Russell Beale, Adam Godley and Ben Miles". The Evening Standard says it is "Absorbingly performed. A trio of performances you can bank on". The Independent calls it "A powerful play directed by Sam Mendes with extraordinary elegance". And the Daily Mail gives it four stars, saying it's, "Ingenious. Three fine actors play out historical saga".
If you'd like to experience a magical piece of real-life storytelling, with towering performances from three of our finest actors, this one is for you. Only Sam Mendes could make a story about financial services fascinating!
Who is this show for?
Being 3 hours 20 minutes long and about banking, this play is intended for people who understand the implications of a global financial crisis. It isn't suitable for children.
The Lehman Trilogy reviews
4.7 out of 5
based on

32

reviews
What to expect:
Acting
Music
Costumes
Story
Lighting
Recommended for:
Anyone (41%)
Families (41%)
Teenagers (47%)
Couples (66%)
Theatregoers (94%)
Latest customer reviews

A brilliantly economical and even poetical script, brilliantly acted and with perfect sets.
Reviewed on 27 August 2019 by Colin, Oxford, United Kingdom

Best director . best actors . Superb
Excellent . too long - and I missed women actresses . from any possible vision - the best of the best
Reviewed on 26 August 2019 by Naomi, Ramat Gan, Israel

Brilliant! A must see and glimpse into greed!
Reviewed on 25 August 2019 by Marie, Harpenden, United Kingdom

Fantastic! Great acting, poetic script, cool choreography and historically super interesting story!!
Fantastic! Great acting, poetic script, cool choreography and historically super interesting story!!
Reviewed on 22 August 2019 by Chantal, Amsterdam, Netherlands

Extraordinary
The Lehman Trilogy Sell your children, sell your house, even sell yourself if you have to in order to get tickets. This was the most engaging play I have seen in a long time (and I've seen a few!) From the opening line to the last this kept me enthralled through out its 3 hour running time (split into three distinct chapters, obviously its called a trilogy for a reason). Firstly the cast were excellent. Using the third person we, the audience, were brought into the play. To me it seemed a living audio book and the poetry of the script comforted you like curling up with a good book on a winter's night. I saw the play after Ben Miles left, to be replaced by Dominick Tiefenthaler. I don't know how Bens performance was but Dominick was flawless. As indeed was Adam Godley and Simon Russell Beale. They felt like family telling you the story together with playing all the parts from crying babies to ancient rabbi. There is humour, tradegy and tension and the script plays like a piece of classical music where words and phrases are reused in different scenes like motifs in an overture. The set, well you have to see it to appriciate how intertwined it is with the story playing out before you. Sam Mendes certainly deserves whatever they give him for the plays direction. There are no answers to the final crash, this isn't a study of how the bank collapsed and there is no moralistic brow beating (they originally made their money through the slave cotton industry). It's is a story of a family and how, when you lose control of something you built, it is up to the gods to decide the fate of your future. Lastly the fourth actor is the piano played live at the side of the stage and praise goes to the piano player (didn't catch who it was) whose music introduces each section and becomes as much an actor as the cast. There isn't long left. Just go!
Reviewed on 18 August 2019 by Stuart, Grays, United Kingdom

Absolutely wonderful
Rich, wonderfully told story of the Lehman brothers.
Reviewed on 11 August 2019 by Ira, Watford, United Kingdom

Poetic, epic, like an opera without singing!
Reviewed on 28 July 2019 by Edna, Cambridge, United Kingdom

An excellent performance by three talent actors, story telling at its best !
Reviewed on 27 July 2019 by Sofia, Frankfurt Am Main, Germany

Over-hyped
Although we enjoyed the show, it was not nearly as good as rave reviews insisted. The staging, lighting, set design costumes were all fine. But by Act 2 & 3, they substituted for a good story The play has been brutally cut from the original at the expense of a comprehensive Final act. The Twist gets in the way and takes the focus off of wha was missing (follow-through storyline.). Acting was very good indeed, but that's what actors get paid for when they're hired. I can sympathise that they had already done a Saturday matinée, but my husband and I could not make out quite a bit of the dialogue. The lighting sometimes glared directly into our eyes. The music was excellent, but sometimes overpowered the dialogue. We had great seats, but the theatre really has no AC, and left us gasping for fresh air at intermission. The orchestra WC was out of order,(and ladies, you know how inconvenient that is!) All in all, a very good show, but for an astounding price of £125 per seat I was stunned to see a work still in progress with glitz and staging to compensate. I wish I'd seen the six-hour version in a much smaller theatre. The show is for a BW/West end audience that loves the buzz and all that jazz.
Reviewed on 22 July 2019 by Christine, Ivry-sur-seine, France

Great Script & Performance
A cleverly constructed play with only three actors, creative story telling with wonderful performances.
Reviewed on 30 June 2019 by Benson, North Point, Hong Kong

Great acting made up for an overlong play which focused far too much on the early years of the Lehman brothers' life and then skipped over the more interesting later part of the family's life.
Reviewed on 19 June 2019 by Frances, Birmingham, United Kingdom

Brilliant play - must see !
The set is very clever and innovative. The three actors are absolutely first class. Runs over 3.5 hours with two intervals - keeps the audience engaged throughout. Don't miss this play.
Reviewed on 18 June 2019 by Lisa, Watford, United Kingdom

It made me love theatre again
Reviewed on 16 June 2019 by Cristina, Brussels, Belgium

A beautifully told and acted story
This was the second time I saw the play within two weeks. I did not expect to love it as much when I saw it the first time but loved it I did. Then I simply had to take my mother and closest friend to see it too. It is wonderfully written and the actors are outstanding. One of the best plays I have seen in a while.
Reviewed on 10 June 2019 by Dora, London, United Kingdom

Very interesting but need to be ready to concentrate for a very long time!
Very interesting story acted very well but found it quite difficult to maintain concentration for the entire time as it's a complex, fast paced story for 3hrs 40mins!
Reviewed on 08 June 2019 by Samantha, Peterborough, United Kingdom

DAZZLING
A bit too long. Otherwise, excellent.
Reviewed on 05 June 2019 by Michael, London, United Kingdom

Extremely engaging
Very intense play, keeping you extremely engaged, very informative with lots of facts and historical relevance. Highly recommended!
Reviewed on 02 June 2019 by Maja, London, United Kingdom

Mendes Magic
Possibly the best play I've ever seen. The rotating set is used imaginatively and effectively. Each actor holds their own on the stage, perfect delivery, flitting between characters and eras, and without a costume change are still mesmerising and engaging. The script is skillful with great pace, poinancy and at points great humour. It's a long play but never dull and no step in the story is lingered on more than necessary. I was hooked throughout.
Reviewed on 31 May 2019 by Kerstin, Chelmsford, United Kingdom

Lehman rocks
Outstanding story and performances for anyone with an interest in business and family histories.
Reviewed on 29 May 2019 by Simon, London, United Kingdom

A tedious historical narrative with only occasional humour
Reviewed on 27 May 2019 by Anne, Exeter, United Kingdom

Perfection
Reviewed on 19 May 2019 by Helen, London, United Kingdom

Best theatre I've seen in a long time. Don't miss it !
Reviewed on 19 May 2019 by Caryn, Shenley Radlett, United Kingdom

Fantastic acting and show
I would recommend this show highly. Fantastic acting and production.
Reviewed on 18 May 2019 by Catherine, Whitchurch, United Kingdom

Fantastic show!
Reviewed on 12 May 2019 by Louise, Belfast, United Kingdom
02

Jan
2020

Critic Stuart King Looks Back on his 10 Favourite Productions of 2019
by Stuart King | Thursday, January 2 2020, 10:23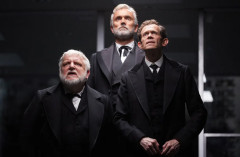 During a politically turbulent year, London has once again played host to an eclectic mix of theatrical productions and despite continuing monetary constraints, has enabled many and diverse creative talents, to flourish.
Among the plethora of new and revival plays and musicals at fringe and West End venues this year, here is this reviewer's personal Top 10 which deserve mentioning.
Critic Stuart King Looks Back on his 10 Favourite Productions of 2019
13

Jul
2018

Review: THE LEHMAN TRILOGY at the National Theatre
by Phil Willmott | Friday, July 13 2018, 09:54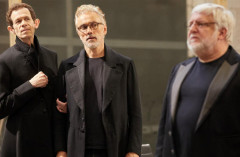 London theatre has already offered two theatrical marathons this year, THE INHERITANCE soon to return to the West End, and IMPERIUM, currently playing at the Gielgud Theatre. Both clock in at around seven hours. By comparison the LEHMAN TRILOGY at the National is a mere three and a half hours and can be viewed in a single performance.
Review: THE LEHMAN TRILOGY at the National Theatre