Quick Facts
Largest Ticket Inventory
in the West End
Real time
seat availability
Choose
your seats
Your booking is processed directly into the box office reservation system
This show is now closed.
The Lion, The Witch and the Wardrobe
Tickets
4.6/5
-

based on

16

reviews
Starring: Sally Dexter, Forbes Masson, Brian Protheroe
About The Lion, The Witch and the Wardrobe
Performance Times
Starring:
Sally Dexter, Forbes Masson, Brian Protheroe
The Lion, The Witch and the Wardrobe description
Open the door and enter a spectacular new world with Peter, Susan, Edmund and Lucy as they journey through the magical land of Narnia.
Adored by all ages this major new production of the classic story has been created by an award-winning team. The first published installment from CS Lewis' beloved 'Chronicles of Narnia' series, it combines live theatre with Threesixty's ground-breaking surround video and enchanting puppetry performed in a state-of-the art theatre tent.
Set against the backdrop of Kensington Palace, this exquisite event promises to be the ultimate summer experience in the park.
The Lion, The Witch and the Wardrobe reviews
4.6 out of 5
based on

16

reviews
What to expect:
Acting
Music
Costumes
Story
Lighting
Recommended for:
Anyone (69%)
Families (100%)
Teenagers (69%)
Couples (69%)
Theatregoers (75%)
Latest customer reviews

Definitely something you don't wanna miss out!
Reviewed on 02 February 2020 by Marcel, London, United Kingdom

Joyable
Reviewed on 01 February 2020 by Julia, Nicosia, Cyprus

I loved the diversity, and the unusual way of telling the story. I was sad that some of the nuance of Lewis was reduced. The journey on the train was clever but a bit long. I loved the snow creation
Reviewed on 10 January 2020 by Fran, Carshalton, United Kingdom

A Wonderful adaptation of a classic
Beautifully put together production! Story was well told and engaging!
Reviewed on 09 January 2020 by Trina, Harrisdale, Australia

A great version of the story
Great lighting effects, Although bear in mind a lot of strobe lighting. The way the snow was represented was theatrical and creative. A great afternoon for my 7 year old son and 80 year old mum.
Reviewed on 27 December 2019 by Clare, Offley, United Kingdom

Amazing visual experience
Reviewed on 22 December 2019 by Martha, Richmond, United Kingdom

C S Lewis renewed
Reviewed on 21 December 2019 by Chee, Birmingham, United Kingdom

Hugely creative and energetic
Reviewed on 11 December 2019 by Jess, Dorking, United Kingdom

Heart-warming, be prepared for tears of joy.
Reviewed on 29 November 2019 by Ken, Blackpool,, United Kingdom

Colourful and Fun!
Reviewed on 26 November 2019 by David, Toronto, Canada

A magical experience
It was an amazing show. I went with my sister, both huge Narnia fans. It was so well done, the staging is incredible and the props are outstanding. I'd recommend getting a central viewing either on gallery 1 or 2, as gallery 3 is partly restricted viewing. But an amazing show! Would recommend!
Reviewed on 20 November 2019 by Hannah, Godstone, United Kingdom

Excellent production, amazing acting and singing, wonderful costumes.
Reviewed on 10 September 2012 by Anonymous

Enchanting show!
Fabulous use of available stage space - wonderful visual experience, and lovely singing too - my 7yr old son says "it can make you jump a lot, but is not frightening!" Highly recommended!
Reviewed on 24 August 2012 by Anonymous

Recommended family show, probably not too suitable for kids under 5yrs old as i witness some got little scared with loud music! Lovely venue. Slow start but great second half.
Reviewed on 21 August 2012 by Anonymous
12

Nov
2019

Review: THE LION THE WITCH AND THE WARDROBE at The Bridge Theatre
by Nicola Wright | Tuesday, November 12 2019, 15:48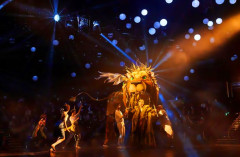 The children's classic, The Lion, The Witch and the Wardrobe by CS Lewis is an epic tale, and not, you might think, the easiest of books to set on stage.The good news is, that under the direction of Sally Cookson, inventive design by Rae Smith, and a multi talented ensemble, the audience are quickly immersed, having been asked if we have our evacuation slips,on a magical journey journey, into the fantasy world of Narnia.
Review: THE LION THE WITCH AND THE WARDROBE at The Bridge Theatre