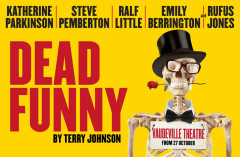 When we hear the phrase "classic comedy" in relation to theatre it usually conjures up the work of authors writing a century or more ago. An exception to the rule is Terry Johnson, still very much alive, whose productions as a director or playwright have won him nine British Theatre awards including the Olivier Award for Best Comedy in 1994 and 1999, Playwright of the Year 1995, Critics' Circle Theatre Awards for Best New Play 1995 and two Evening Standard Theatre Awards.
One of his early successes was the play DEAD FUNNY, originally performed at the Hampstead Theatre in 1994, which has been in production somewhere in the world virtually ever since. The small cast required and simple set has been part of its appeal to producers and audiences but that wouldn't count for anything if the play wasn't also hilarious and poignant too.
The premise is that a group of misfits and comedy obsessives are gathering to commemorate the death of Frankie Howard and king of slapstick, TV comedy, Benny Hill. Tensions bubble to the surface within the group, as two couples grapple with the spectre of infidelity and childlessness and a third character considers his sexuality... or as the Press release for the current production puts it "Eleanor wants a child. Richard would oblige if he could, but he's too busy running the Dead Funny Society. When British comedy heroes Frankie Howard and Benny Hill turn up their toes in the same week the society gather for a celebration of hilarity and laughter. But Eleanor's grin masks a grimace. When your marriage is deader than either Morcambe or Wise it's hard to see the funny side of things."
The Daily Telegraph described the first production as "A shatteringly good play, as hilarious as it is heartbreaking" and it transferred to the Vaudeville Theatre. Directed by Johnson, this original production starred Zoë Wanamaker, David Haig, Niall Buggy, Danny Webb and Beatie Edney. The play has won numerous awards including a Writers Guild Award for Best West End Play, a Drama Critics Circle Award and a Time Out Drama Award.
This October it will return to the Vaudeville, in a new production, again directed by Johnson for a limited season from 27 October 2016, starring Katherine Parkinson, Steve Pemberton, Ralf Little, Emily Berrington and Rufus Jones.
You'll recognise Steve Pemberton from his TV roles in 'THE LEAGUE OF GENTLEMAN', 'BENIDORM' and 'WHITECHAPEL' and Ralf Little from 'THE ROYLE FAMILY', 'TWO PINTS OF LAGER AND A PACKET OF CRISPS' and 'THE CAFE'.
They're two of my favourite comic actors and they should do full justice to the brilliant script.