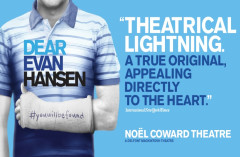 Now booking until the summer of this year, the multi award-winning, multi-generational musical Dear Evan Hansen continues to enchant audiences at London's Noel Coward Theatre.
Dear Evan Hansen is more than a mere success: it's a supernova. After a record-breaking premiere at the Music Box Theatre on Broadway in 2016 – where it still plays, now in its fourth year of standing-only audiences – and another hit US tour in 2018, the musical is currently touring North America for the second time. Dear Evan Hansen opened at London's Noel Coward Theatre in November 2019, where the cast and crew quickly commandeered the heart of Theatreland, beating the box office ceiling this side of the pond as well.
A deeply profound meditation on loneliness and suicide, Dear Evan Hansen plays with tragic themes. A teenager ridden with depression and social anxiety, Evan Hansen invents a role for himself in the immediate world of a former school peer, who had recently taken his own life. A keen teller of stories, Evan's fabrications work to open up a space atop his school's hierarchy for the first time. But, the truth will out, and before long, it does. The narrative is hugely contemporary, also reflecting on the intricacies of social media: how despite ever-increasing connectivity, modernity is fast becoming an age of isolation.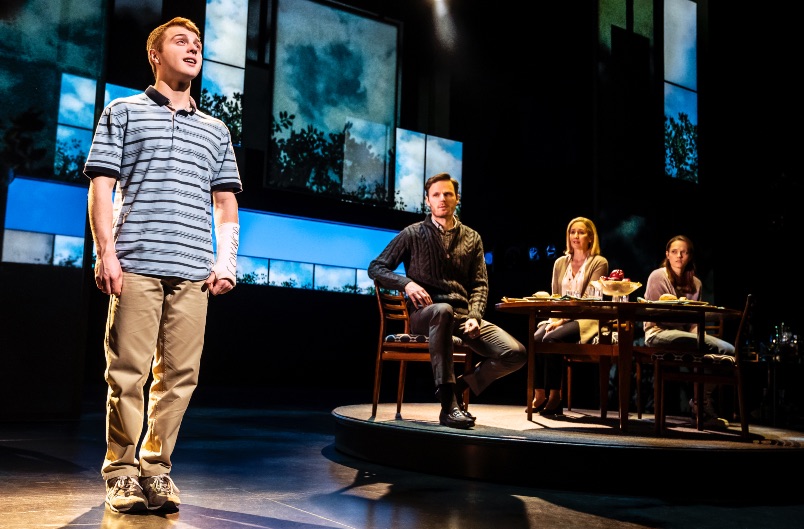 Sam Tutty and Cast of Dear Evan Hansen
With a book by Steven Levenson and score by award-winning duo Benj Pasek & Justin Paul (composers of The Greatest Showman), Dear Evan Hansen has been widely regarded for its high production values. Not only the recipient of six Tony awards (of which include Best Musical), the production also garnered the 2018 Grammy Award for Best Musical Theatre Album. Upon its release, the original cast recording entered the US charts at #8 – the highest debuting position for an album of its kind since 1961.
Starring as Evan, Sam Tutty has blown Theatreland wide open. The recent winner of the Critics' Circle Most Promising Newcomer award, his performance has – as proven by the unanimous praise given by media and press – confirmed his star status. The West End production of Dear Evan Hansen also sees the reuniting of the original Broadway creative team. Indeed, their trophy cabinet is so full, the gold statuettes don't bear counting. It's no surprise then, that the production's West End run has been extended. Thanks to a further release of tickets, the musical will now be booking to the 27th June 2020. It is, quite simply, unmissable.
Tickets from just £29.75, subject to availability.