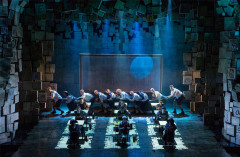 Everybody loves the musical Matilda. When it opened at the Royal Shakespeare's home theatre in Stratford-Upon-Avon even the most pompous critics were besotted calling it the greatest new musical of recent years. Actually it isn't, the musical numbers are fun but beyond the infectious kids song - When I Grow Up - there's nothing anyone will still be singing in ten years time but watching the show is a glorious experience and if you haven't seen it before you'll fall in love with it too. I paid a second visit the other night and fell for its charms all over again.
It's based on Roald Dahl's uber best selling children's novel Matilda. Dahl of course was the master of weaving clever stories with vivid characters and plenty of darkness which is just scary enough to give kids a thrill. On this occasion the title character, a little girl, is treated so cruelly by her parents that it's borderline child abuse, utterly unwanted, they don't even give her enough attention to remember she's not a boy.
But Matilda has special gifts. She loves books and is a fantastic story teller who keeps the librarian at the library where she seeks sanctuary, enthralled. She weaves a haunting tale of circus acrobats in love. They are threatened by a cruel aunt who bares a strong resemblance to Matilda's headmistress the ghastly Miss Trunchbull - a truly monstrous villain and the best character in the show. An ex-Olympic athlete she despises children and one of the great pleasures of the production is watching the kids get the better of her. Matilda's story proves the key to Trunchbull getting her just deserts.
One of the glories of the show is the casting. The headmistress is always played by a man and Craige Els does a fantastic job of recreating the original award winning performance. The young cast who play Matilda and her friends are exceptional, you won't believe what fantastic singers, dancers and actors they are, even the tiniest ones.
Other pleasures are a lovely set designed by Rob Howells and apparently constructed from thousands of children's building blocks with unexpected and fun things popping out of the floors and walls.
The choreography is a particular delight. I'm a big fan of Peter Darling's work and on this occasion, as ever, he creates steps and formations that are completely unique yet which suit the characters and narrative perfectly.
One word of warning, where I was sitting, at the side of the dress circle, it was regularly hard to make out exactly what the actors were saying or singing. I don't remember this being a problem the first time I saw it.
The good news is that it didn't seem to stop the people around me, of all ages, who obviously knew the story better than me, from having a fantastic time.
I bet you will too.