Quick Facts
Largest Ticket Inventory
in the West End
Real time
seat availability
Choose
your seats
Your booking is processed directly into the box office reservation system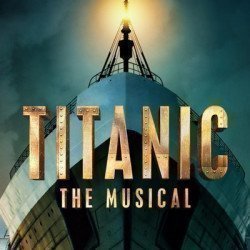 Titanic the Musical
Tickets
4.3/5
-

based on

18

reviews
Coming soon
Information
Cheap Tickets
Reviews
News
About Titanic the Musical
Performance Times
Titanic the Musical description
In the final hours of 14th April 1912 the RMS Titanic, on her maiden voyage from Southampton to New York, collided with an iceberg and 'the unsinkable ship' slowly sank. It was one of the most tragic disasters of the 20th Century. 1517 men, women and children lost their lives.
Based on real people aboard the most legendary ship in the world, Titanic The Musical is a stunning and stirring production focusing on the hopes, dreams and aspirations of her passengers who each boarded with stories and personal ambitions of their own. All innocently unaware of the fate awaiting them, the Third Class immigrants dream of a better life in America, the Second Class imagine they too can join the lifestyles of the rich and famous, whilst the millionaire Barons of the First Class anticipate legacies lasting forever.
With music and lyrics by Maury Yeston and a book by Peter Stone (Woman of the Year and 1776), the pair have collectively won an Academy Award, an Emmy Award, an Olivier Award and three Tony awards. The original Broadway production of Titanic The Musical won five Tony Awards including Best Musical, Best Score and Best Book. This stunning production celebrates the 10th anniversary of its London premiere where it won sweeping critical acclaim across the board.
Book your tickets today for this incredible experience.
Titanic the Musical cheap tickets
We have a great selection of cheap Titanic the Musical tickets. We can help you save up to 70% on Titanic the Musical tickets! If you're looking for discount theatre tickets have a look below for our latest offers for Titanic the Musical at the London Theatre to be announced.
There are no special offers available at the moment but we still have great ticket prices for Titanic the Musical at the London Theatre to be announced.
Titanic the Musical reviews
4.3 out of 5
based on

18

reviews
What to expect:
Acting
Music
Costumes
Story
Lighting
Recommended for:
Anyone (61%)
Families (72%)
Teenagers (67%)
Couples (72%)
Theatregoers (83%)
Latest customer reviews

Titanic
The show was absolutely first class, but the venue let. It down with the temperature being too hot, and no air-conditioning.
Reviewed on 06 August 2016 by John, Aberdeen, United Kingdom

Good. Something Different to the film
I really like the theatre which was small compared to others but it would be so hot in the summer.
Reviewed on 29 July 2016 by Minyoung, London, United Kingdom

Wonderful.
Reviewed on 28 July 2016 by Darren, Ormiston, Australia

Worth seeing
Reviewed on 27 July 2016 by Caroline, Wimbledon, United Kingdom

London's best kept theatre secret!
Reviewed on 19 July 2016 by Sheila, Horsham, United Kingdom

Emotional
I really enjoyed the show which had a dedicated cast and team. The music was in keeping with the story but had no numbers I wanted to remember. however, as a dramatist I was glad I had been to see it and thought the cast worthy of the standing ovation.
Reviewed on 11 July 2016 by Judith, Swansea, United Kingdom

Not one to miss!
This is one of the best west end performances I have ever seen. With such a small theatre and restricted room for a set it was astonishing what the actors achieved. From start to finish the show was gripping and ever member of the cast were equally as talented. It was so beautifully executed that I actually cried in the second half. Would recommend this to anyone.
Reviewed on 18 June 2016 by Zachary, Lowestoft, United Kingdom

Great show
Reviewed on 16 June 2016 by Harald, Milton Keynes, United Kingdom

Really great show!
Reviewed on 13 June 2016 by Ruaridh, Callander, United Kingdom

Enthralling, Entertaining
Reviewed on 04 June 2016 by Basil, Morley, United Kingdom
29

Apr
2020

A Musical Morale Booster From the Titanic!
by Phil Willmott | Wednesday, April 29 2020, 22:19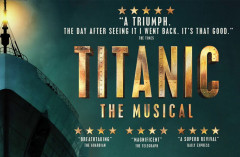 Here's a lovely thing. 70 actors from 6 revivals of Maury Yeston's Tony-winning musical TITANIC have joined forces to record a glorious rendition of the stirring 'We'll Meet Tomorrow' from the show.
A Musical Morale Booster From the Titanic!