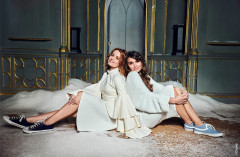 With the announcement that Samantha Barks will play Elsa and Stephanie McKeon will plays Anna in the upcoming London production of FROZEN we take a look at some other Disney cartoon sisters.
But first here's the low down on the two young stars of the live action FROZEN from the press release.
Samantha Barks plays Elsa. She was Eponine in the firm of LES MISÉRABLES (recipient of Empire Award for Best Female Newcomer; and nomination for Screen Actors Guild Award for Outstanding Performance by a Cast in a Motion Picture). She reprised her performance as Eponine for LES MISÉRABLES IN CONCERT: The 25th Anniversary. For theatre, her work includes CHESS (Umeda Arts Theater Main Hall / Tokyo International Forum Hall), PRETTY WOMAN (Chicago and Broadway), THE LAST FIVE YEARS (St James Theatre), AMELIE (Berkley Rep), CITY OF ANGELS (Donmar Warehouse), CHICAGO (Hollywood Bowl), OLIVER! (UK tour), LES MISÉRABLES (Queen's Theatre), and CABARET (Birmingham Rep). She was one of the participants on the BBC series I'D DO ANYTHING.
Stephanie McKeon plays Anna. For theatre, her work includes Beautiful – THE CAROLE KING MUSICAL (Aldwych Theatre), JACQUES BREL IS ALIVE AND WELL AND LIVING IN PARIS (Gate Theatre, Dublin), CLOSE TO YOU: BACHARACH REIMAGINED (Criterion Theatre and Menier Chocolate Factory), and THE COMMITMENTS (Palace Theatre).
Other Disney Cartoon Sisters
The film on which the stage musical is based has been widely praised for capturing the unique dynamic that exists between sisters. About time too because the Mickey Mouse studio hasn't made this a central focus of a story before, in fact you have to search quite hard to find female and female siblings.
ANASTASIA AND DRIZELLA
I immediately thought of Cinderella's sisters of course,
Anastasia and Drizella, they're her step-sisters but I think that counts. Hardly role models they're relentlessly mean to our heroine but I suppose they get on well together. Although they're despicable in the original Disney movie, their characters get fleshed out a bit over two sequels and it's even possible to like Anastasia once we learn of her search for true love.
THE THREE GOOD FAIRIES
Remember the sweet little old ladies who are the good fairies in SLEEPING BEAUTY? These gals are very busy keeping everyone's secrets and the kingdom safe from harm as well as steering the royal couple towards their happily ever after. Slightly dotty it's fun that they're able to outsmart the evil fairy Maleficent in all her towering magnificence. They have co-ordinating outfits even if the colours clash horribly!
SI & AM
I assume the two evil cats in the original LADY AND THE TRAMP are sisters. They are identical seal-point Siamese and start creating mischief as soon as their sneaky little eyes are glimpsed in the darkness of their basket. Emerging with the classic Disney villain's song WE ARE SIAMESE they memorably set out to terrorise a canary, a gold fish and Lady gets into trouble when she tries to stop them reaching the baby. The sequence has begun to seem racist in recent years and in the live action remake they're interior decorating brothers.
LILO AND NANI
More recently in 2002 there was a "big sister, little sister" relationship in LILO AND STITCH. There's a 12 year age gap between Lilo and Nani and when they lose both their parents Nani really steps up to play a mothering role, fighting to keep them together. When things look really bleak for the two and they may be separated Nani sings a beautiful little rendition of the Hawaiian folk song ALOHA ʻOE (also known as FAREWELL TO THEE) to express her regrets and sadness. It's made all the more poignant because it's sung unaccompanied and climaxes in the releasing of petals on the wind.
ARIEL'S SISTERS
If you're looking for maximum sisterhood in a Disney film there's only one place to turn, THE LITTLE MERMAID in which Ariel has six older sisters named Attina, Alana, Adella, Aquata, Arista and Andrina. Perhaps surprisingly none of them has a mean bone in their body, despite their temperamental father, and they're relentlessly supportive. They have a song too, DAUGHTERS OF TRITON. They must have got on well because their elaborate dance routine looks painstakingly well rehearsed until of course their youngest sister goes AWOL and misses her big solo.
Can you think of any other Disney sisters?