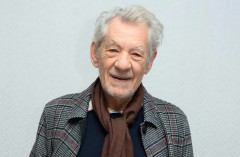 In a very shrewd move veteran producer, Bill Kenwright, has asked director Sean Mathias to take a turn as Artistic Director of his venue, the Theatre Royal Windsor.
It's shrewd for two reasons.
One, because if you get Mathias directing you can often get theatrical legend Ian McKellen to star.
Indeed the two former lovers seldom make theatre without each other these days. And who can blame the 81 year old actor knight for wanting a cosy, un challenging atmosphere in rehearsals? The two know each other's working patterns inside out and that must make for a very pleasant time. It's certainly resulted in some wonderful theatre that's kept box offices busy around the country. Appearing outside of the London bubble has always been admirably important to McKellen.
The second reason it's shrewd is that, certainly a few years ago, the venue desperately needed a little star powered magic. When I directed there in 2014 (also for Bill Kenwright) it was a horribly depressing place. The faded, yellowing front of house décor, resplendent with black and white photographs of long forgotten stars, made your heart sink. It cried out for some TLC.
And perhaps that's what put audiences off too. You'd think that Windsor with its royal connections would be home to an affluent, artistically and intellectually curious middle class with a passion for theatre. Not a bit of it. Ticket sales were in a seemingly terminal decline (I like to get the inside gossip from box office staff where ever I work) I certainly couldn't imagine anyone under 40 wanting to hang out amidst the pics of 1970s celebrities.
So having a mega star like McKellen in town should really shake things up a bit. How lovely if it meant the place was alive with audience chatter again.
Here's what we know about this Hamlet from the press release -
Stage and screen legend Ian McKellen will take on the role of Hamlet for the first time in almost half a century in a new production.
The piece will begin rehearsals on Monday 29th June and is the first major UK production to begin rehearsals since theatres went dark in March.
Performance dates for the show, which will run at Theatre Royal Windsor, have not been set.
Speaking about returning the role of Hamlet, McKellen said: "I feel lucky to be working again, thanks to Bill Kenwright's inspiring optimism and Sean Mathias's invitation to re-examine Hamlet, 50 years on from my first go. So now we will meet again. Don't know when but do know where – Theatre Royal Windsor!"
The age-blind production of Shakespeare's tragedy, directed by Sean Mathias and produced by Bill Kenwright, will also star Ben Allen, Emmanuella Cole, Alis Wyn Davies, Oli Higginson, Nick Howard-Brown, Jonathan Hyde, Asif Khan, Missy Malek and Jenny Seagrove. It is designed by Lee Newby, with costume design by Loren Elstein, lighting design by Jamie Platt with composition and sound design by Adam Cork.
Following Hamlet, the company will also present Martin Sherman's adaptation of Anton Chekov's The Cherry Orchard, with McKellen as Firs the elderly manservant.
Mathias said: "I have always been a fan of ensemble work so when Bill Kenwright asked me to be his artistic director at Windsor I saw a perfect opportunity to create a company and direct two of the greatest plays ever written… we await news of when we may actually perform in front of a live audience.