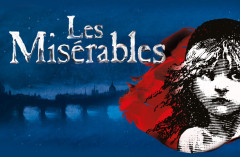 The West End has been a particularly gloomy place over the last few week as London was plunged into tier 4 of the government's Covid regulations and then a lockdown, designed to stop the spread of the virus by restricting personal contact in public spaces.
However it's a new year and there's a new optimism in the air with the roll out of a significant programme of vaccination. We still have a tough few months ahead now that the UK has been placed under short-term lockdown but one thing looks certain, we can start planning our theatre going again.
Once everything gets back to normal our regular round up of West End news is where you'll find all the latest info on new show announcements, openings, extensions, closures, cast changes and rumours. But whilst the industry is largely dormant we'll update you on when you'll be able to see the long running hits again and what to expect.
Recently the producer of Les Miserables, Cameron Macintosh has bullishly not only announced a reopening date but declared it'll be business as usual with no social distancing. He's looking forward to a packed auditoriums again from as early as 29 May and tickets are now on sale. The first night is certainly going to be one of high emotions and relief.
What's more this will be the return of the FULL production and not the more static in concert version that's been presented recently and which was brought to an abrupt end by London's shift into tier 4 of Covid restrictions. However if you're a Les Mis aficionado please note this will be the popular updated production rather than the much missed original RSC version.
The update has been directed by Laurence Connor and James Powell and features designs by Matt Kinley inspired by the original Victor Hugo paintings. It's an adaptation by Trevor Nunn and John Caird, of an original French text by Alain Boublil and Jean-Marc Natel; lyrics by Herbert Kretzmer; music by Claude-Michel Schönberg.
Les Miserable is an epic tale of redemption, revolution and injustice thwarted. Convict Jean Valjean must build a new life for himself after 20 years of hard labour. His dedication to doing good, for himself, his community and his adopted daughter is tested by the dogged pursuit of a policeman, and underworld scheming, in an unjust pre-revolutionary France amidst the chaos of student rebellion that brings heart break and romance.
It's sweeping story line has been intoxicating audiences world-wide for over 30 years. It's hard to resist emotionally investing in the fate of the good characters as they face injustice, and the heart stirring message of their triumph.
Les Miserables also has one of the best known scores in modern musical theatre including the oft performed I Dreamed a Dream, One Day More, On My Own, Empty Chairs at Empty Tables and Bring Him Home.
No casting has been announced but the rumour is that Jon Robyns will once again play the show's conflicted bad guy, Jean Valjean, based on his enthusiastic social media responses to the reopening news.