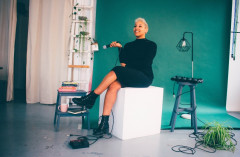 This week, West End Editor Josephine Balfour-Oatts gets a one-way ticket to Theatreland alongside Koko Brown. A deft guide to London's quieter corners, Brown highlights the magic found in our city's lesser-known spaces.
Koko Brown is a published playwright, spoken word artist, theatre maker and producer. Her recent Colour Trilogy has been performed at The Ovalhouse, Camden People's Theatre and Edinburgh Fringe Festival to critical acclaim, with her upcoming work PINK, currently in development.
Do you have a favourite theatre in the West End? If so, why?
Soho Theatre is definitely on the top of my list of favourite West End theatres. I love it because they have managed to keep programming and producing work that is like a riot on stage. It's a really great representation of what emerging and professional artists can offer with support from a unique West End theatre. Plus their staff are friendly and that really adds to the atmosphere of a venue.
Which are your preferred spots for a pre-show meal?
Normally I'll go to BiBimBap in Soho but if I feel like making it a special occasion, I'll go to Zedel's Brasserie in Piccadilly Circus. It's my favourite place to eat and feel fancy, plus the decor is beautiful.
Where is your post-show drinks haunt?
There's a secret spot behind this unassuming door in Soho. The bar is tiny and drinks options are limited but it's cozy and welcoming. Too bad I can't tell you where it is!
Which of Theatreland's upcoming/ current productions are you most looking forward to?
I'm looking forward to seeing & Juliet. I've heard so many good things about it plus, as far as Jukebox Musicals go, this show seems to have all the songs of my teenage years so I have to go for the 15 year old in me.
Top show to see right now?
SIX.
Expenses aside, what would be your ideal day out in London?
That's a difficult one. I'd probably eat my way through all of the capital's top restaurants, only stopping off for a matinee of Hamilton, and an evening performance of SIX.
In your opinion, what is London's best-kept secret?
Easy - the fringe theatre scene. There are so many shows that take risks, amplify voices and do interesting things with form but, because they're not commercial or produced by the big guys, they get overlooked. Yeah it's risky but I would encourage everyone to try to see something at a fringe venue like the Bush Theatre, Ovalhouse or Camden People's Theatre if they can.
On your days off, where are you most likely to be found?
In Holland Park with a notebook and a coffee. It's such a beautiful park with hidden corners, beautiful plants and peacocks. The perfect way to hit the reset button.
What is your fondest memory of the London theatre scene?
2014. It was the year that flicked a switch in my brain and made me rethink my role in theatre.
I saw a show at the Barbican called Mozart Undone. A wild, anarchic show set to reimaginings of Mozart classics. When I saw it, it blew my mind. Not because it was the best thing I'd ever seen but because it was completely different from anything I'd ever seen. I didn't know that you were allowed to make theatre that looked and sounded like that so it really changed my perception.
Then, later that year I saw Chewing Gum Dreams by Michaela Coel which allowed me to witness a Black woman, on stage, alone, holding an entire audience's attention for 70 minutes. It moved me in a way that no piece of theatre had before. That was the moment I realised that, if I wanted to, I could make theatre like that.
Where in London are you most happy?
At home. I'm a born and bred Londoner and I know how overwhelming the city can be, so I have my space that is independent of all that.
What's next on your agenda?
I'm about to R&D a family show called The Kid Who Lost Her Voice. It's about a little girl who is always told to sit down, be calm and be quiet. Then her voice gets stolen and she goes on a journey to get it back. I'm really excited about it because I get to write something completely different to my previous shows and I'm able to work with some brilliant artists during the process.