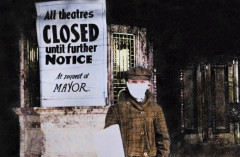 The fine people at the PUBLIC CAMPAIGN FOR THE ARTS have added two templates from which you can pick, personalise and send to your MP, making the case for a financial rescue package from the Government to save the theatre industry.
There's even a nifty little box where you can put in your post code and it'll identify the member of parliament who represents you.
If your following developments you'll know that there's been no mention of aid despite persuasive, logical and vociferous campaigning by some of the most powerful people in the land and folk like you and me.
When I bring this up in conversation there are occasional mumblings about theatre being niche and not a priority so it's worth reiterating quite how many people's livelihoods are at stake.
We tend to think it's just about saving actors jobs but, in fact, there's an entire eco-system of subsidiary workers and business that are reliant on theatres staying open AND putting on shows.
A number of people, across social media, have attempted to quantify those affected. This is the most complete list I've found. I've been unable to discover who originated it but, if it was you, thank you for so diligently itemising who's out of work when a theatre closes.
It's more than you might imagine. As well as the performers there's:
Playwrights
Translators
Adaptors
Dramaturgs
Production Managers
Stage managers
Company managers
House managers
General managers
Dressers
Wardrobe Supervisors
Hair/Makeup
Carpenters
Electrics
Sound
Props
Musicians
Ushers
Bartenders
Box office treasurers
Porters
Cleaners
Merchandisers.
Security
Marketing
Producers
Directors
Choreographers
Movement Directors
Authors
Orchestrators/Arrangers
Interns
Press Agents
Casting Directors
Set Designers
Costume Designers
Hair/Makeup Designers
Lighting Designers
Sound Designers
Prop Designers
Video Designers
Projection Designers
Puppeters
All the design assistants
Assistant Directors
All Design Associates
Vocal/dialect coaches
Child wranglers
Doormen
Scenic artists /painters
Composers
Theatre Photographers
The Orchestras
Conductors
Aerialists
Graphic designers
All the costume shops where the costumes are made
The millinery shops where the hats/headpieces are made
The cobblers where all the custom shoes are made
The wigmakers
The fabric/bead/feather shops- while these may reopen they will suffer huge losses with no shows requiring anything for this entire year.
Scenic shops where the sets are built
Prop shops where the props are made
Sound and Lighting shops where the lights & mics are rented from
Design studios where the sets, costumes, props, etc are dreamed up to make the directors vision a reality
Rehearsal spaces for the show to be worked out before it appears for your pleasure
Merchandise vendors, concessions
Advertising agencies & press agencies
Talent agencies and managers
Union offices
Producer & general management offices
in house theatre bookshops stuf
Printers (theatre programmes)
Theatre Accountants
Theatre Architects
Delis
Restaurants
Post-show bars
Post show Dinners
Coffee shops
Hotels / Theatre Digs
Garages
Gyms
Physical therapists
Laundrettes