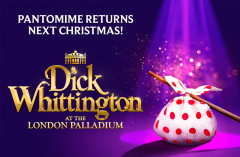 We're barely into Spring but it's already time to look forward to Pantomime, the UK's traditional Christmas theatre treat. Two PR firms have announced festive productions in the last few days, one gigantic the other niche.
Let's start with the giant. Last Christmas panto expert Michael Harrison brought large scale, big budget pantomime back to the London Palladium where it used to reign supreme in the 1950s and 60s. His Cinderella had an all star line up, was nominated for an Olivier Award and although rumours persisted that they were struggling to sell enough seats at the high ticket prices it's widely regarded as having been a success.
Harrison knows that although pantomime has to deliver a great experience for kids it's grownups who spend the money, so although his shows have lots of magic to appeal to little ones there's always plenty of adult humour that children won't notice but will keep the grownups laughing.
The master of this is comedian Julian Clary. If you're under 16 he's a lively, engaging, larger than life figure who you want as a mischievous friend. If you're over 16 he's a purveyor of quick fire, sexual innuendo. Appealing to everyone it's little surprise that the producers have brought him back after his triumph in Cinderella to star in this year's show Dick Whittington.
Also returning is the hilarious ventriloquist Paul Zerdin and the suave actor Nigel Havers, who broke so many hearts during his long career as a TV leading man.
Dick Whittington, as any child will tell you is the story of how a penniless young adventurer and his cat rises from poverty to become mayor of medieval London via adventures on the capitol's streets, at sea and in Morocco.
Julian Clary will play Spirit of the Bells (an interfering fairy), Paul Zerdin will play the main comedy character, Idle Jack and Nigel Havers will captain the ship that transports the gang to adventure.
Further casting and creative team will be announced shortly.
Dick Whittington will run at the London Palladium for five weeks only over the festive season from Saturday 9 December 2017 to Sunday 14 January 2018.
Meanwhile it's also been announced that the tiny basement of the Leicester Square Theatre will be the Christmas home of a pantomime about Donald Trump from a team who'd amassed quite a reputation for adult-only festive shows. I've found their previous productions, aimed at the gay community, to be wearyingly shrill and tediously distasteful so perhaps this show about the U.S. President means we can look forward to a few more sophisticated and genuinely witty moments amongst the smut. Pity the poor writers though, they'll have a daily battle to keep the show topical and how do you parody a man who is himself a parody of a president?