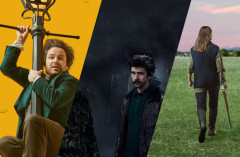 A year or so ago the former Artistic Director of the National Theatre, Nicholas Hytner invited me for a coffee to talk about his new theatre THE BRIDGE. He was full of passion for what he could achieve there and the potential the flexible performance space offered. At that time the opening seemed way in the future so it's exhilarating to hear about his first season, which has just been announced.
There's very little information out there beyond the press release (and a very excited post in my facebook feed from Laurie Sansom who'll direct the third play) but here's an "at a glance" distillation of what we know so far.
What's truly impressive is how it balances shows with potential for big ticket sales alongside more adventurous new writing.
However don't be surprised if the whole project sells out very quickly, such is the affection knowledgeable theatre goers have for Hytner and his work. Book your tickets as soon as you can.
The first production are as follows.
18 October - 31 December 2017: YOUNG MARX
Nicholas Hytner will direct YOUNG MARX, the world premiere of a new comedy by Richard Bean and Clive Coleman starring Rory Kinnear as Karl Marx hiding out in 1850s Soho.
January – April 2018: JULIUS CAESAR
David Calder, Michelle Fairley, David Morrissey and Ben Whishaw will star in JULIUS CAESAR by William Shakespeare, directed by Nicholas Hytner in promenade. Promenade in this context means that 250 people a night will stand with the actors as the action unfolds around them. Hytner was very excited about the new space's potential for this so it should be a fascinating staging.
April to June 2018: NIGHTFALL
Laurie Sansom to direct the world premiere of Barney Norris's NIGHTFALL about rural life near Winchester. It sounds like a delicious family drama fuelled by ambition and revenge.
From summer 2018 details are a little sketchier but we can look forward to the following productions as described in the press release.
ALYS, ALWAYS
A new play by Lucinda Coxon based on the novel by Harriet Lane. Nicholas Hytner directs "an unsettling story of concealed ambition preying on the self-regard of London's literary élite"
FLATPACK
A new dark comedy by John Hodge, screenwriter of Trainspotting and Shallow Grave, his first play since Collaborators at the National Theatre.
A NEW PLAY ABOUT JS BACH
Simon Russell Beale plays JS Bach in Nina Raine's new play.
THE BLACK CLOUD
A new play by Sam Holcroft, from the 1957 novel by Fred Hoyle, "one of the greatest works of science fiction ever written" Richard Dawkins.
CARMEN HAVANA
based on the opera by Georges Bizet.
Lucy Prebble "locates the famous story of liberation, desire and death in 1950s Cuba". Directed by Nicholas Hytner with choreography by Miguel Altunaga.
https://bridgetheatre.co.uk/