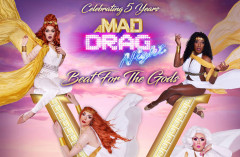 The Make A Difference Trust (MAD) is thoroughly good news. Fuelled by actors and the theatre profession they stage a number of events throughout the year to raise money in support of those living with or affected by HIV/AIDS.
What's more their events are glamorous and fun too, they have considerable wow-factor and entertainment appeal, and often give you a chance to see performers from your favourite West End Shows in an audacious new way.
Their next fund raising event is an excellent example. On Sunday 18th August at Proud Embankment they're celebrating five years of their annual MAD Drag Night with a big party. And you're invited to donate and attend.
We're promised that "some of the West End's finest performers will, for one night only, drag-up and join Drag Queens for this spectacular show, in what will be an evening of sparkling entertainment for anyone who loves theatre or Drag or both"
They're calling the show 'Beat for the Gods' and it will star cast members from Hamilton, The Book Of Mormon, Aladdin, 9 to 5, Kinky Boots, Wicked, Come From Away, Priscilla Queen of The Desert, Evita, Bare the Rock Opera, Waitress, Hair, Matilda and many more.
There'll be two shows on the 18th and celebrities in attendance will include Faye Tozer, Dr Ranj, David Ames, Harriet Thorpe, Tom Read Wilson, and Miss Rory.
We're promised "a spectacular night of pure entertainment and fun that promises to give the audience a night to remember"
This is an organisation that delivers, both in it's charitable work and it's event planning so I thoroughly recommend you book yourself in, enjoy the fun, and help support some of the more vulnerable members of the theatre community who's lives have been made more difficult by the HIV virus.
Tickets available from £15.00 at https://www.madtrust.org.uk/events/mad-drag/