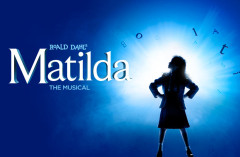 Update for Matilda The Musical at the Cambridge Theatre
The Royal Shakespeare Company's remarkably popular version of Roald Dahl's quirky children's story is back, the Cambridge Theatre is open once more, and we're delighted to present some wonderful, inspiring new photography and footage. One image comes from the curtain call and the video footage reveals exclusive behind-the-scenes content. How exciting! The show is currently booking through until 29th May 2022 for individuals and 16th December 2022 for schools and groups.
Who's involved in Matilda The Musical?
Ten million people have seen and loved this show, spread across 90 different cities. It has won an extraordinary 99 awards including 24 for Best Musical. It has thrilled the West End for a decade. And the heroine is one of the strongest, funniest, naughtiest and bravest little girls of our times. We're expecting even more rave reviews, even more critical acclaim, and huge, happy sell-out audiences. Here's who's involved in the magic.
Written by Dennis Kelly
Music and lyrics by Tim Minchin
Developed and directed by Matthew Warchus
Designed by Rob Howell
Choreography by Peter Darling
Orchestrations, additional music and musical supervision by Christopher Nightingale
Lighting by Hugh Vanstone
Sound by Simon Baker
Special effects and illusions by Paul Kieve
Produced by Executive Producers Denise Wood and Griselda Yorke for the Royal Shakespeare Company
Developed with the support of Jeanie O'Hare and the RSC Literary Department
Buy Matilda The Musical Tickets
Book your Matilda The Musical tickets online with us and choose the best seats with our Cambridge Theatre seating plan. We'll send your E-tickets to your email address – simply present them at the door on the day and you're in for a huge, hilarious treat!
About the Cambridge Theatre
The Cambridge Theatre is magnificent, clean lined and modern-feeling. The trail blazing Art Deco- German Expressionist decor was restored in 1987 and the main foyer is a masterpiece of deco-style dancing nudes and marble up-lighting. Past shows at the Cambridge Theatre include Fame, Grease, Chicago, Our House, and Dancing In The Streets.