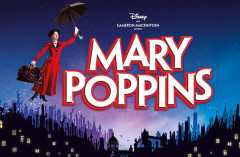 Has 2020 got you overwhelmed already? Not to worry, we've three extraordinary shows to help bolster your resolve this new year.
Mary Poppins
"A spoonful of sugar helps the medicine go down."
Based on the much-loved series by P.L Travers and the original Disney film, Mary Poppins transports its audiences away from the hustle and bustle of Old Compton Street, to the Banks' doorstep on Cherry Tree Lane.
The musical's creative powers – including a score by Richard M Sherman and Robert B Sherman – are maximised by its combination of classic songs (Supercalifragilisticexpialidocious and Feed the Birds) and new music (such as Practically Perfect). This, in combination with a heady potion of scenography, costume and choreography, makes concrete its message regarding the importance of play. A bewitching spectacle for all the family.
Matilda
"Never do anything by halves if you want to get away with it. Be outrageous. Go the whole hog. Make sure everything you do is so completely crazy it's unbelievable..."
Dennis Kelly's adaptation of Roald Dahl's Matilda captures perfectly the mood of this new decade: the idea that one can achieve anything they set their mind to. Now running at the Cambridge Theatre – where it has been enchanting audiences since 2011 – Matilda is a story of hope.
At once a relaxant and a stimulant, strong themes of magical thinking act to simultaneously galvanise and embalm the soul of the spectator. Matilda gives rise to those endless worlds contained by words – discoveries that demand courage in the face of adversity and above all, a sense of adventure.
Wicked
"....Everyone deserves a chance to fly!"
As demonstrated by the trajectory of Wicked's heroine, Elphaba, being different isn't easy. An alternative reimagining of the Land of Oz, the infamous Wicked Witch of the West is made human. Here, Elphaba works to overcome internal and external obstacles to take ownership of her story.
Brought to life by an intensely talented cast and crew, Wicked is now widely recognised as a cultural phenomenon. Now entering its 13th year on London's West End (with new dates added across 2020), this production is one for your theatrical bucket-list. From Wicked comes the tale of a strong, female character: one who is unafraid to take risks, or to embrace those elements that make her unique.