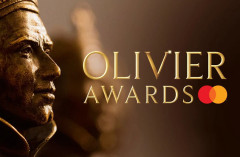 This is a particularly strong category and all four leading ladies could justifiably take home the prize. Here's how they stack up.
Sharon D. Clarke was mesmerising in Caroline, Or Change at the Playhouse Theatre in which she played a maid in 60's Southern America, dealing with a life of drudgery, a moral dilemma and a wayward daughter with a stoic fortitude that broke our hearts. A perfect example of saying so much by being still and restrained her quiet nobility represented the struggles of down trodden women everywhere. Her emotions seemed encased in armour plating that was on the brink of cracking throughout and when she let-rip in a final number it was devastating.
Rosalie Craig oozed vivacity in Company at the Gielgud Theatre as Bobby, a role hitherto played by a man. The gender swap could so easily have gone wrong but Craig was so vulnerable and so engaging that we willingly emotionally invested in her hunt for a boy friend and the rest of the show slotted beautifully into place around her. The role kept her on stage through most of the show but she sparkled for every moment, night after night, bringing New York style wit and sophistication to the role of a lonely woman who never seemed needy. Formidable vocals too.
Kelli O'Hara in The King And I at The London Palladium was repeating a role she'd played on Broadway in the gloriously old fashioned classic by Rodgers and Hammerstein. Playing a Victorian School mistress in the court of Siam she made the well known and much loved songs take wing and seem newly minted, balancing pluck and romance beautifully as she faced and fell for her formidable employer, the barbarous king. There was terrific comic and sexual chemistry between the unlikely pair and O'Hara ensured that we were willing him to fall into her arms.
Adrienne Warren, playing the title role in Tina - The Tina Turner Musical at the Aldwych Theatre was a tireless powerhouse. Belting out non-stop rock numbers with a skill and tenacity that rivalled Turner herself, she transformed what could have been a tacky tribute show into a very classy evening in which she beautifully captured a young girl fighting her way tirelessly through heart-break and betrayal, from humble beginnings to world mega-stardom. Warren shone as both rock star and actress and winning this award would boost her as she moves to New York to recreate her performance on Broadway.
Who'll Win? Probably Craig, everyone's nuts about Company.
Who Should Win? Clarke, I doubt I'll see a more dignified, nuanced, heartbreaking performance in a musical.