The team behind Elliott Harper Productions have enjoyed a wave of successful shows in recent years, which is all set to continue with this much-anticipated reworking of Stephen Sondheim's 1970 musical COMPANY, at the Gielgud Theatre.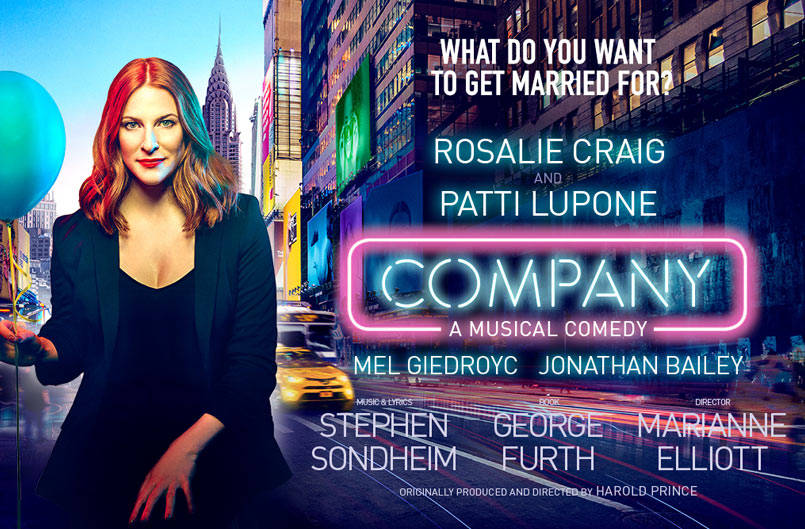 Such contemporary pieces dealing (as this one does) with society's views on relationships, compatibility and ageing, can often feel dated and irrelevant when brought out of mothballs. However, with a few neatly re-written sections, the piece scored a notable success back in 1995 under the direction of Sam Mendes (then dazzling theatregoers as artistic director at the Donmar Warehouse). On that occasion the central character of Bobby was played by Adrian Lester - kicking racial prejudice to the kerb as a self-assured, intelligent, sexy and (as it happens) black, charismatic male lead. 23 years on and director Marianne Elliot has offered Mr Sondheim further opportunities to demonstrate his relevance to a new generation, by designating the central role of Bobbie as a female character.
Clearly, changing the name and sex of a story's protagonist has a domino effect on a cast populated with 5 couples who are the lead character's closest friends, but the creative team have risen magnificently to the challenge and in doing so have breathed vitality and relevance into this witty and playful piece.
Bobbie celebrates her 35th birthday surrounded by friends who wonder why she hasn't yet married...the scenes which follow demonstrate an often hilarious multitude of reasons why some individuals flourish in coupledom and why others would best avoid the state altogether.
Presented as a sequence of vignettes - largely focusing on Bobbie's relationship with each couple - there are stand-out moments of vocal dexterity which will have Sondheim aficionados applauding loudly after virtually every musical number. This reviewer particularly enjoyed the snappy harmonics achieved with "You Could Drive A Person Crazy", (re-written for three of Bobbie's male suitors); the machine-gun paced hysteria of "Getting Married Today" (sung by Jonathan Bailey as Jamie) and of course Patti LuPone's tour de force rendering of Joanne's drunken bitch-slap to the Manhattan social scene "The Ladies Who Lunch". As the oldest and unarguably most jaded character in the show, LuPone's Joanne relishes delivery of every dead-pan, caustic one-liner, accompanied as always by her trademark Vodka Zinger and a healthy side order of what is nowadays termed shade. Rosalie Craig brings down both the first and second half curtains with the considered and rousing "Marry Me A Little" and "Being Alive" respectively, to earn her top billing as Bobbie.
The musical virtuosity is complemented throughout by some very tricksy and superbly executed choreography developed by Liam Steel, which has more than a passing nod to Matt Mattox's jazz style. It was most notably effective in the zany second half opener "Side By Side" / "What Would We Do Without You" which garnered enormously appreciative cheers from the audience, and "Poor Baby" / "Tick-Tock" which made especially good use of Bunny Christie's illuminated truck sets whose doorways periodically aligned downstage to enable frenetically precise movement between the deliberately claustrophobic rooms.
This is a terrifically accomplished production which is sure to appeal to both long-time Sondheim fans and relative newcomers to his intelligent, human observations and subtle wit. Everybody acquits themselves marvellously and with aplomb - as is necessary for such a collectively dependent enterprise.
This production is still being developed in preview performances. A press night review of the finished piece with a star rating will follow.