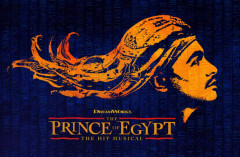 It's great to see the complete cast confirmed for one of the West End's best loved family musicals, complete with three brand new players, all of whom have recently graduated from some of the world's finest colleges. The show stars an awe-inspiring company of 154 people including a cast of 46, which has been described by Time Out as 'utterly stand out'. Welcome to The Prince of Egypt, a hugely popular Grammy Award nominated musical based on the Dreamworks animated movie, on at the Dominion Theatre from 1st July 2021, with tickets on sale until early January 2022.
Who's involved in The Prince of Egypt?
Travel through the wonders of Ancient Egypt as two wealthy young men, raised as brothers, are divided by a dark secret from the past. One is destined to rule as the Pharaoh of Egypt, the other will ultimately free his people, and together they'll change the world. Expect dazzling costumes, remarkable show tunes and a plot you'll love, packed with drama and excitement... plus ten spectacular new songs from Stephen Schwartz. The new ensemble cast members are as follows, all of whom are enjoying their West End debuts:
The wonderful Catherine Cornwall, a 2019 graduate from Bird College
The brilliant Daniel Luiz, a 2021 Mountview graduate
The remarkable Samuel Sarpong-Broni, a 2020 Royal College of Music graduate
And the rest of the show's astonishing talent?
Music and lyrics by the multi-award winner Stephen Schwartz
A book by Philip LaZebnik
Luke Brady plays Moses
Liam Tamne is Ramses
Christine Allado is Tzipporah
Alexia Khadime plays Miriam
Joe Dixon is Seti
Debbie Kurup is Tuya
Clive Rowe is Jethro
Mercedesz Csampai plays Yocheved
Adam Pearce is Hotep
Tanisha Spring is Nefertari
Silas Wyatt-Barke plays Aaron
The producers are DreamWorks Theatricals, Michael McCabe and Neil Laidlaw
Directed by Scott Schwartz
Choreography by Sean Cheesman
Set designs by Kevin Depinet
Costume designs by Ann Hould-Ward
Lighting design by Mike Billings
Sound design by Gareth Owen
Projection designs by Jon Driscoll
Illusions by Chris Fisher
Wigs, hair and makeup design by Campbell Young Associates
Orchestrations by August Eriksmoen
Musical supervision and arrangements by Dominick Amendum
Musical direction by Dave Rose
Casting by Jim Arnold CDG
Children's casting by Verity Naughton CDG
Buy The Prince of Egypt Tickets
Book your The Prince of Egypt tickets online through us and enjoy your ideal seats thanks to our Lyceum Theatre seating plan. We'll send your E-tickets to your email address, for you to present on the day of the performance.
About the Dominion Theatre
Dating back to 1928, the Dominion Theatre is on Tottenham Court Road, London W1. This is where the the London premiere of Charlie Chaplin's City Lights took place, way back in February 1931, with Chaplin himself attending the show. Past shows at the Dominion Theatre include An American In Paris, Bat Out Of Hell The Musical, Big The Musical, and Irving Berlin's White Christmas.