You simply must experience the magic of Les Misérables live on stage in the West End at least once in your lifetime. This world-famous musical set against the backdrop of 19th-century France will stir your soul with its powerful music and timeless story of love, passion, and revolution.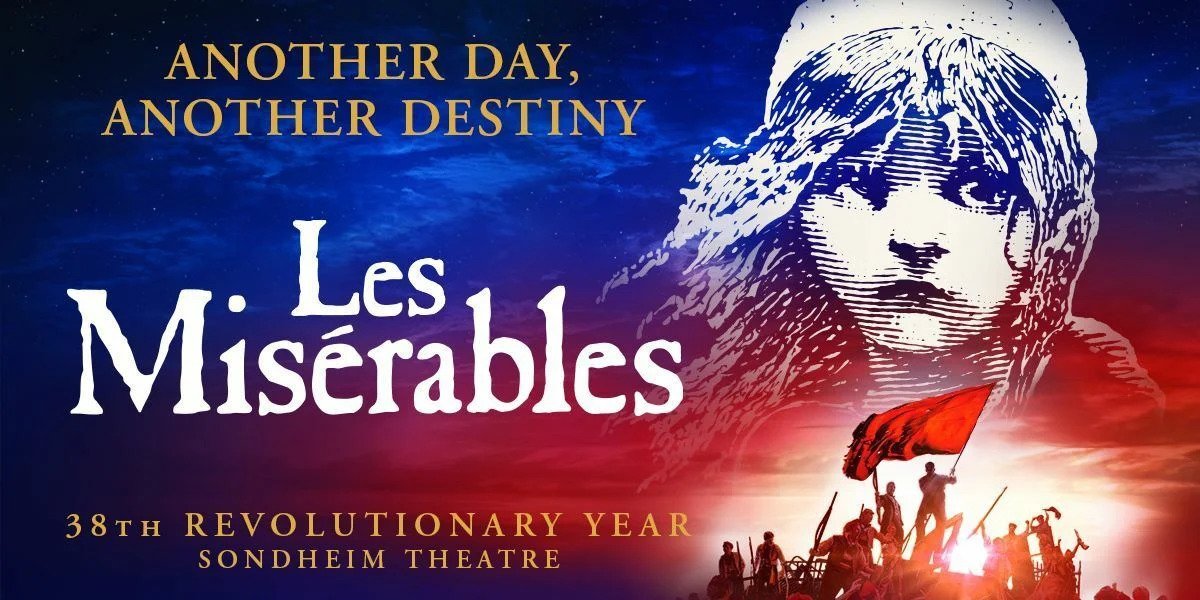 Les Miserables logo.
You'll laugh and cry along with characters like the steadfast Jean Valjean, the tragic Fantine, and the youthful Cosette. By the final triumphant notes of "Do You Hear the People Sing," you'll leave the theatre deeply moved and inspired. If you only see one West End show, make it the legendary Les Misérables. This is a musical experience in London you'll never forget. Here are 4 reasons why it's a must-see London theatre show:
1. One of London's most famous West End musicals
Seeing Les Misérables in London's West End is an unmissable experience for any musical theatre fan. This acclaimed production brings Victor Hugo's famous story to life like nothing else, with its powerful music, emotional storytelling, and virtuoso performances.
Now having reached over 15,000 performances - there's no better time to see this historic musical in action.
2. The Music
This is certainly a musical which is jam-packed with some of the biggest musical theatre songs of all time. Epic anthems like "Do You Hear the People Sing" and "I Dreamed a Dream" will give you goosebumps when you witness seeing them performed live on the stage in front of you.
3. An unforgettable story
Whether you're seeing Les Mis for the first time or the fiftieth, it remains to have a deeply human story of love, heartbreak, morality and redemption that resonates with people of all backgrounds. This production has gone beyond the stage, with a film adaptation being released back in 2012 where it starred Samantha Barks, Eddie Redmayne and Hugh Jackson in it.
4. Talented cast
The West End cast of this production deliver showstopping performances night after night at the Sondheim Theatre. Their heartfelt portrayals of complex, multi-dimensional characters like Jean Valjean, Javert, Fantine, and the Thenardiers create a profound connection between the story and the audience.
Les Miserables is undeniably a show for all ages to enjoy. Don't miss your chance to experience this musical and theatrical masterpiece in London, the home to some of the best shows in the world. Book your tickets with London Box Office, we have some of the best ticket prices for London Theatre shows. Treat yourself to tickets today and see for yourself why Les Miserables has the history and reputation it has - you'll be glad you did!