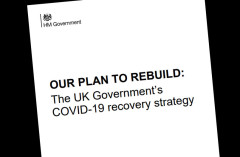 There will be no UK Theatre before July 4th. We can assume.
And we can only make an assumption because shamefully there isn't a single mention of Britain's most celebrated and vibrant art form in the entire 50 page dossier.
The bit that probably applies to us doesn't happen until STEP THREE which will be "no earlier than July 4".
The document claims "There is the ambition to open at least some of the remaining businesses and facilities, including Personal care (such as hair and beauty salons, barbers) Hospitality (such as food service providers, pubs, accommodation) Public places (such as places of worship) & Leisure facilities (such as cinemas)".
"Cinemas" That's as close to a mention of theatre as we get. I'm extremely concerned that this reflects how much the Government cares about us, i.e it doesn't.
The trouble is the future of venues all over the UK hangs in the balance, and right now, let alone in July. Closed and with no income from ticket sales most performing arts centres are going to require a significant injection of public funds if they're to survive. Let's remain optimistic but theatre's exclusion from future recovery plans doesn't bode well.
Back to that government document. It continues -
"Some venues which are, by design, crowded and where it may prove difficult to enact distancing may still not be able to reopen safely at this point, or may be able to open safely only in part. Nevertheless, the Government will wish to open as many businesses and public places as the data and information at the time allow. The Government will facilitate the fastest possible reopening of these types of higher-risk business and public places and pilot reopenings to test their ability to adopt the new Covid-19 Secure guidelines. It will establish a series of task forces to work closely with stakeholders in these sectors to develop ways in which they can make the businesses and public spaces secure."
I fear it's going to be a long wait.