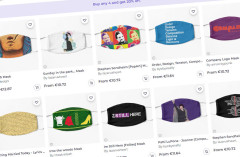 It's true! Ingenious company Redbubble have produced a huge range of surgical type masks, which they describe as "designed by independent artists, so your personality won't disappear behind your mask"
The collection include 121, yes that's 121! masks with a Sondheim theme.
So whilst the UK Government compels us to wear protective face covering on public transport you can delight your family, amaze your friends and baffle fellow London Underground passengers with a mask in honour of Stephen S.
There's one, for instance, that features his signature, multiple panels of his face in the style of Andy Warhol, as he might have been painted by Van Gogh, or even one that reproduces the bottom half of his face to wear over the bottom half of yours.
Then there's masks with the graphic design insignia from every one of his shows or that have the catch phrases from his best known songs emblazoned across them.
Why not buy a range and match the lyric to your mood on any given day. Choose from "Look I made a Hat" or "Being Alive" or a mask decorated with the list of objects the characters in INTO THE WOODS must collect to lift the curse, or the president killers featured in ASSASINS or the entire lyrics of Getting Married Today or… well there's dozens to choose from.
Or you might like to celebrate major Sondheim performances. There's a selection of five (five!) with an illustration of Patti Lupone in an S.S. role! And choose between Jonny Depp and Helena Bonham Carter as Sweeney Todd and Mrs Lovett or the original Broadway stars, Len Cariou and Angela Lansbury.
Thanks to reader Davor Glub for sending me the link to these treasures. I've gone from incredulous scoffing at the absurdity of it all to wondering which one to choose.
Here's where you can make your selection.
https://www.redbubble.com/shop/?iaCode=u-mask&query=sondheim&sortOrder=relevant