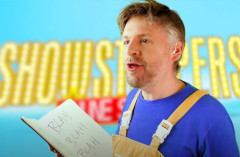 As today's press release reminds up Showstoppers have been pretty busy during the lock down.
You'll remember that they're the troupe of performers who improvise a new musical; songs, dialogue and even a little choreography, on the spot, at every performance.
If you've never seen them in action they're quite something and pretty much always manage to be funny, poignant and very impressive . Little wonder they've notched up 12 sell-out years at the Edinburgh Festival Fringe, two West End runs, an Olivier award and a BBC Radio 4 series.
I must confess I was a bit underwhelmed by the their first on-line venture when they set out to make a metaphorical song and dance about the fact they they'd create a musical number in 24 hours based on a title and musical theatre style suggested by a West End celebrity.
Considering we usually watch them create an entire musical in 2 hours writing and staging 1 song in a day didn't seem that taxing a challenge, to me.
Anyway they seem to have given up on that and next up, following a successful attempt to improvise an entire European song contest, is a project aimed at kids.
Considering youngsters are really good at making up stories and letting their imaginations run wild they should really relate to improvisation, and being loud and wearing brightly coloured dungarees have long been intrinsic to both childhood and being a Showstopper.
Their first kids show, or "Online Storytime adventure" as they call it, is already on YouTube for your home-schooled little darlings to enjoy.
It's entitled THE SPACE WARS and apparently the team have been "Armed with dozens of brilliant ideas from youngsters from age 3 to 13 all sent in via social media" inspiring them to create a "marvellous, musical, interactive adventures all locked down from their own homes".
"Based entirely on children's suggestions, the stories are improvised at home, recorded and edited into brand new content for families. The kids decide where the story is set, who the characters are, the title of the story and off we go! So, if they want to see dragons on the moon fighting alien fairies, or angry sheep eating bananas under the sea, all they need to do is suggest it, and The Showstoppers will make it happen".
That ought to keep everyone quiet for 20 minutes.
Here's the link: