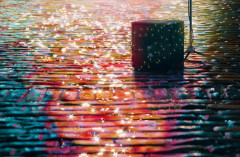 The recent lock down had given the West End's musical theatre stars a chance to polish up their cabaret acts and two companies have announced a stellar line up of top talent who'll be displaying their virtuosity.
First up, industrious producers Fourth Wall Live have announced a take over and reboot for perhaps one of our smartest cabaret venues, the lounge at the sparkly and relatively new Hippodrome Casino on the corner of Leicester Square.
That's where you can enjoy an impressive range of artists on one off mini-concerts.
Tickets start at £20 (plus booking fee)* which is a bargain considering you can enjoy musical encounters with the likes of Jenna Russell, Trevor Dion Nicholas, Jodie Jacobs, Danielle Steers, Oliver Tompsett, Matthew Croke and many more.
The season, entitled Live in London, runs for three weeks until Sunday 20 December and also features comedians, magicians and more.
Of course the audience will be safely socially distanced following government guidelines abs of course The Hippodrome Casino is an over-18s venue only. So they advise that if you are lucky enough to look under 25 you must bring photo ID.
More details from the Hippodromes website.
Meanwhile a few streets away The Donmar Warehouse have announced a celebrity ladened festive concert cheerily entitled "Looking a Lot Like Christmas".
Imelda Staunton, Giles Terera, Minnie Driver and Rosalie Craig are to star in the event which will be live-streamed from the Actors' Church in London.
Looking a Lot Like Christmas.
You can watch it on the Donmar's YouTube channel on December 16 at 7.30pm.
It's described as an hour-long concert of musical numbers, sketches and poetry and it will be directed by Simon Evans with musical direction by Nigel Lilley and production design by Grace Smart.
Alongside Staunton, Terera and Craig, the cast also includes Jim Carter and Sharon Rose.
Appears further artists are to be announced in the coming weeks, with a few performers to join the concert digitally from their living rooms.
Donmar Warehouse artistic director Michael Longhurst said:
"At the end of a very difficult year for us all, we wanted to bring together a group of incredible artists to celebrate the festive season in true Donmar style.
We are thrilled to be creating this concert for the special setting of the Actors' Church – and offer it as a heartfelt thank you to our audiences for their unwavering support this year.
Even though we can't be together in person, we hope you will all join us online to share the joy of music and theatre which has endured throughout the challenges of 2020."
Audiences will be invited to donate, with 85% of the proceeds going to support the Donmar Warehouse and 15% to go to homeless charity Connection at St Martin's.