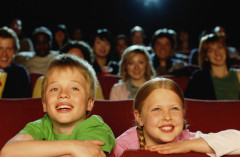 From time-to-time people ask my advice about how to get their teenager into theatre work, and of any opportunities I may have, or know of.
On these occasions I've learnt to say, "well, tell them to drop me an email with a little bit about their theatre interests and I'll advise on who best to contact". Guess what? I never hear a thing!
It's a good test that. If the kid doesn't have the focus to write an email they'll never have the dedication needed to break through in an absurdly over-crowded profession. Hopefully a lesson learnt for both parents and young adults without time and money being wasted.
However for younger kids it's a very different matter.
I'm not sure why but currently I seem to be getting enquiries from the parents of younger and younger children. Perhaps 24/7 lock down with the young opens the eyes to hitherto unnoticed talent. This week a friend asked if I could offer any advice for his niece who'd spotted an unusual quirky charisma in her five-year-old. "How could she get into performing?" The family, who live in Derby, wondered?
My hope is that they don't mean - "how does she take the first steps on the way to stardom".
Hopefully they're simply wondering how to nurture and encourage creativity and an appetite for performing, recognising how invaluable it can be for any kid to be given the space and encouragement to use their imagination and express themselves.
This freedom to create and share silly characters and stories without adults imposing boundaries, and to sing and dance without fear of being judged, or to draw and make things without having to worry about it being assessed etc. is one of the greatest gifts you can give a child. Every single one of us could make-believe like an Oscar winner and sing with the joy of a diva and draw and make stuff out of plasticine, until the day someone told us we weren't very good and should cease.
Therefore, any drama activity for the under sevens should be about having fun and making friends (real and imaginary) and not being told to shut up and stop showing off or knuckle down to win a prize.
When inevitably the parent of an outgoing little girl does an internet search for a youth theatre, drama club or after school performance classes for their daughter my advice would be to ignore the expensive glossy ones making inflated claims about the skills the child will learn and the opportunities this may lead to. Pick the one that looks most fun. There's plenty of time to discover the disciplines and disappointments of being a professional performer later.
However, the one thing parents can do that pretty much guarantees any child a lifetime of pleasure from the performing arts is simply to take them to the theatre whenever possible.
Introduce them to the joy of sharing in a performance, not in isolation, scrolling through bite sized video clips on a phone, but listening, laughing, thinking, even breathing along with and alongside others, as part of a live audience.
I'm amazed at how many parents never consider this and it needn't be expensive.
Elsewhere on the London Box Office site I'll be telling you the best places in London to find quality theatre for any age group and considering what children need from theatre as it rebuilds itself post-Covid.