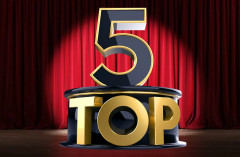 The UK Prime Minister, Boris Johnson, has finally felt confident enough that we're eradicating the Corona virus from our lives to announce what he calls a "road map", a series of dates on which it is hoped various restrictions will be lifted. The plan concludes with to return to a semblance of normal life in early summer.
For many of us that life was enhanced by regular trips to the theatre. There, exposure to the performing arts, brought us new perspectives on the world around us or simply made us happy for a few carefree hours. The risk of infection in crowded spaces has meant the closure of such venues for nearly a year now, and boy, have we missed our theatres.
But the government's latest optimism gives us hope of great and imminent change for the better; so much so that West End producers are now, at last, scheduling re-opening dates for shows both classic and ground breaking.
Finally, we can plan theatre trips again.
Just be warned! there's so much magic, charm, sophistication and fun to be had from West End shows in 2021 that you won't want to overlook anything you'd later regret missing. But fear not, you'll find all the info you need to make the perfect selection, right here at London Box Office.
Why not have fun drawing up list of the top 5 shows you want to see? But don't forget to also check out our prices and special offers as you go. You may find you can afford to see more of your favourite shows than you think.
To inspire you here are the 5 shows I'm personally looking forward to the most and for what reason.
Returning to the Shaftesbury Theatre from June 21st.
This is high on my must-see list because I can't believe I haven't seen it yet! I must confess I didn't fancy its chances when it was first announced. A musical picking up the Romeo and Juliet story from where Shakespeare left off and incorporating cheesy pop songs didn't sound as if it would find favour with anyone. But how wrong I was. Everyone I know from Shakespeare buffs to fans of previous juke box musicals has absolutely loved this witty and empowering show that features modern chart mega-hits like Baby One More Time, Everybody (Backstreet's Back), Love Me Like You Do, Eye of the Tiger and Can't Stop the Feeling. Which, it turns out, are all by the same guy – Max Martin! Who knew?
We have tickets from £24.75
Playing at Adelphi Theatre, also from June 21st.
Here's another new musical that looks bound to be a big crowd pleaser. The guys behind one of the 1980s most iconic and best loved family films have now adapted it into a stage show. In fact, even better, they've taken the movie premiss and developed it, rather than merely watering it down for the stage. As befitting a show that apparently still features a time-traveling car and a bonkers scientist it was said to be eye-poppingly spectacular when they tried it out in Manchester. Commendably and very bravely it features original songs rather than taking the obvious route of incorporating 80's pop. "Awesome!" as we used to say back then.
We have tickets from £23.50
Playing at the Wyndham's Theatre from 26th September.
I cannot wait to see this. I love ambitious productions that attempt to stage the unstageable and what could be a more unlikely choice for adaptation than the adventures of a boy marooned on a boat with a tiger. Apparently, the whole endeavour succeeds brilliantly, utilising puppetry and projections of the ocean across a specially adapted auditorium that seats us around the action. The book was a masterpiece, the film was unforgettable and now the stage version looks set to be a massive West End hit, too.
We have tickets from £29.75
Playing from 26th October at the Duke of York's Theatre.
There are few things I enjoy more than taking my theatre seat for a show that utterly captivates and transports me beyond the everyday to a magical new world. And that's exactly what happened when I saw this play's first incarnation at the National Theatre last year. It's based on a book by Neil Gaiman, surely one of the world's top fantasy writers, for younger and older audiences. It operates in a parallel world to ours, that's recognisable but with its own internal logic, in which its young protagonist battles monsters in human form and otherwise in response to his mother's absence. It's all achieved by low-tech theatre trickery that's, none the less, utterly beguiling. I kept thinking how much my 12 year old nephew would love it. Now I have a chance to take him.
We have tickets from £21.75
At The Regents Park Open Air Theatre from July 31st.
I'm an old-fashioned guy at heart and I always relish the chance to see the greatest musicals from the golden age of Broadway, from the late 1930's to the 1960's. It used to be that revivals from this repertoire were regular and ubiquitous but now that the West End's core audience is getting younger there are fewer and fewer chances to see these classics. One venue that successfully bucks the trend is the open-air theatre in Regent's Park. A magical backdrop to shows by the likes of Rodgers and Hammerstein (The Sound of Music, The King and I, South Pacific) Carousel is one of their biggest, ever-green hits containing immortal songs like You'll Never Walk Alone, If I Loved You and June is Bustin' Out all Over. The old-fashioned story that seems to celebrate an abusive marriage between an innocent factory girl and a dissolute fairground barker can make us feel uneasy these days, but this production will be in the safe hands of the brilliant director, Tim Sheader.
We have tickets from as little as £14.50