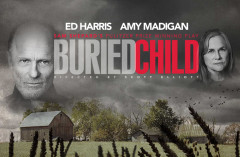 There are exciting rumours about the autumn season at Trafalgar studios with more details available soon. Here's what we know so far!
The line up looks set to include BURIED CHILD, Sam Shepard's gleefully gothic tale of dysfunctional rural American life.
A streak of dangerous insanity seems to run through the family concerned. A farm is barely surviving financially and relatives are so at each other's throats that traditional roles get all mixed up as dreadful secrets are unearthed when spectacular, high octane confrontations erupt. I've seen several past productions and it's an exhilarating roller-coaster ride; part comedy, part thriller, part domestic drama it's crammed full of obscenity, unexpected surprises and hair raising shocks!
This production should be particularly ripe, starring, as it does, multi award winning, international star Ed Harris (Pollock, The Hours, The Truman Show) in his West End stage debut. He starred in an acclaimed New York run earlier this year. Also reprising her roles from the Broadway success are Amy Madigan (Twice in a Lifetime, Roe vs. Wade) They'll be joined by Brit Jeremy Irvine (War Horse, The Railway Man, Now is Good)
Further casting will be announced in due course. The play was awarded both a Pulitzer Prize and an Obie Award in 1979, and was subsequently nominated for five Tony Awards following its revival on Broadway in 1996.
Once again direction will be by Scott Elliott whose production of Jesse Eisenberg's play THE SPOILS has been such a hit at Trafalgar studios recently.
Also announced for the venue is an Autumn double bill of LUNCH and THE BOW OF ULYSSES two short plays by Steven Berkoff from 1993 and 2002 respectively. These will play in the Trafalgar Studio's smaller space for five weeks from Thursday 6 October - Saturday 5 November.
I don't know these plays but if other Berkoff works are a guide expect these to be pepped with rich, extraordinary language, larger than life characters and creatively expressed obscenities!
The pieces are described in the press release as "two of Berkoff's finest small pieces, examining the relationship between a couple when they first meet and have, what appears to be, an abortive one-night-stand; and how they are years later after two decades of marriage".
Director Nigel Harman says "I am thrilled to have the opportunity of working on two of Steven Berkoff's rarely performed short plays, When I first read them I was struck by the caustic beauty of the writing. Berkoff manages to amuse, horrify and move all in one sentence. And his instinct for the human condition, with all it's flaws and wonders, is unique. I'm intrigued to put these plays on stage and see how an audience will react. They are a challenge to watch. Some people will laugh and enjoy the theatricality of them. Others may find them uncomfortable in the way they hold a dark mirror up to relationships. One thing's for sure, they don't pull any punches."
We'll report on the casting when it's been finalised.
There are also rumoured plans of a stage version of the internationally best-selling novel THE KITE RUNNER at Wyndham's Theatre in December, which would be very exciting.
Check back here for more details as soon as they're announced.