22

Jun
2017

Review: THE KITE RUNNER at the Playhouse Theatre
by Justin Murray | Thursday, June 22 2017, 10:14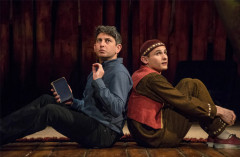 Khaled Hosseini's 2003 novel The Kite Runner has proved one of the runaway hit books of the 21st century, and has since featured everywhere from Hollywood films to exam syllabuses. This simple, at times limited production originated in Nottingham Playhouse, before transferring to the West End's Playhouse Theatre in June.
Review: THE KITE RUNNER at the Playhouse Theatre
04

May
2017

The West End's Kite Flies On
by Phil Willmott | Thursday, May 4 2017, 10:05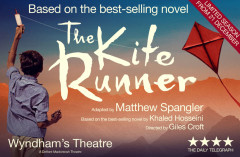 I didn't see the recent West End production of The Kite Runner at the Wyndhams Theatre so I'm delighted to hear that not only is it to be revived at The Playhouse Theatre from 8th June but advance booking are so good that it's extending its run there until 26th August.
The West End's Kite Flies On
20

Jan
2017

Review: THE KITE RUNNER, Wyndhams Theatre
by Andrew Bewley | Friday, January 20 2017, 09:36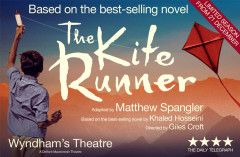 Based on the best-selling novel by Khaled Hasseini, this Nottingham Playhouse production of The Kite Runner comes 13 years after the original book and 9 years after the film-adaptation — both of which were huge successes in their own right. Hasseini's extraordinary, darkly beautiful, shocking story is one that should be enjoyed with as little pre-tense as possible so it's important to speak sparingly about the plot.
Review: THE KITE RUNNER, Wyndhams Theatre