Trafalgar Studios (One)
14 Whitehall, London, SW1A 2DY GB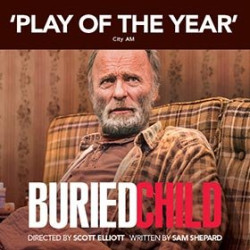 Buried Child
Tickets
Trafalgar Studios (One)
Starring: Ed Harris, Jeremy Irvine, Amy Madigan
Book

tickets
Press Reviews
Ed Harris - a totally intoxicating performance The British Theatre Guide
A thrillingly mix of American Gothic and Pinteresque menace Time Out
Harold Pinter meets Eugene O'Neill - a great family drama with a bitumen black heart' What's On Stage
Wickedly funny, full of rich black humour London Theatre
Sam Shepard's ripe slice of American gothic with its deeply dysfunctional family symbolic of a divided and disillusioned America Financial Times
Frighteningly realistic as a woman who has no idea that she is drowning not waving' The Times
Customer Reviews
What to expect:
Acting
Music
Costumes
Story
Lighting
Recommended for:
Anyone
Families
Teenagers
Couples
Theatregoers
based on 21 reviews
Weirdly entertaining
Gordon London Box Office customer
The cast performances were superb. A thoughtful and thought provoking play that was brought to life perfectly by this cast, they got it just right Ed Harris is a class act, a true professional of his art.
Lee London Box Office customer
What was all the fuss about?!!
Too much whining and noise for a very weak plot line. The direction was strange... The sound of the rain was only at the start of a couple of scenes and mysteriously stops as the characters start speaking. Ed Harris's character, the old man coughs (melodramatically) only twice and at other equally heated moments carries on sounding fit and fine.
Sunil London Box Office customer
Not a must see
Cast was amazing, story line too confusing
Dana London Box Office customer
Enjoyable!
Sumiko London Box Office customer
Interesting, but a typical Sam Shepard play.
Andrew London Box Office customer
Accessible and thought provoking
Great show. We greatly enjoyed the journey through the show and the discussions about it afterwards.
Phoebe London Box Office customer
Innovative showcase of stereotypes of America
Harris was wonderful, character was believable and very humorous at times. An interesting play, would highly recommend. Happy viewing.
Jemma London Box Office customer
Intriging!
Very good show, interesting story line, very comical, and great acting. All views of the stage are good, but as the tiered seats are very steep, best to have a box, for more leg room. A great show for a night out!
Maryja London Box Office customer
Great Show
Great show
Warren London Box Office customer
Great stage production
Roxanne London Box Office customer
Cast were amazing and great story
Loved this 3 act show, great cast and excellent value for money.
Deborah London Box Office customer
A bleak look at horrible events
Like a train wreck, hard to look away. The story was fascinating and the characters compelling while being places you never want to be and people you never want to meet. Overall, surprisingly entertaining.
Kevin London Box Office customer
So clever, amazing acting!
Jodine London Box Office customer
Ed Harris is masterful.
Judith London Box Office customer
08 Dec 2016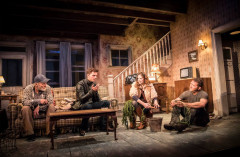 The people of America's rust belt, a vast area of deprivation, formally the home of now depleted heavy industry, have been much in our minds recently. Their disillusionment with and establishment politics are seen as a major contributing factor in the election of President-elect Donald Trump.
02 Sep 2016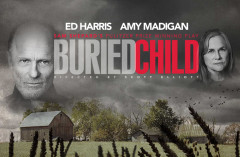 There are exciting rumours about the autumn season at Trafalgar studios with more details available soon. Here's what we know so far!
The line up looks set to include BURIED CHILD, Sam Shepard's gleefully gothic tale of dysfunctional rural American life.
Use the search box at the top left of this page to search for Buried Child tickets availability.
Quick Facts
Largest Ticket Inventory in the West End
Real time seat availability
Your booking is processed directly into the box office reservation system
Collect your tickets from the theatre for free or get them posted to your address.

Theatre Address
Trafalgar Studios (One)
14 Whitehall, London, SW1A 2DY GB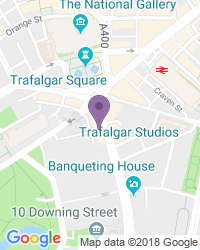 Facilities
Air conditioned
Bar
Infrared hearing loop
Member of Q-Park scheme
Toilets
Theatre Info
Capacity: 382
Year built: 1930