Quick Facts
Largest Ticket Inventory
in the West End
Real time
seat availability
Choose
your seats
Your booking is processed directly into the box office reservation system
This show is now closed.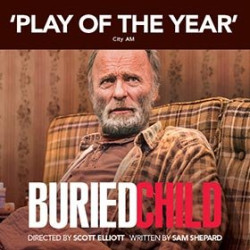 Buried Child
Tickets
4.3/5
-

based on

21

reviews
Starring: Ed Harris, Jeremy Irvine, Amy Madigan
Information
Cheap Tickets
Reviews
News
About Buried Child
Performance Times
Starring:
Ed Harris, Jeremy Irvine, Amy Madigan
Buried Child description
Love thought-provoking theatre? Want to see an all-time American classic layered with meaning, a critique of the American Dream, family life and mythology? If so this is perfect, genuinely powerful stuff, the kind of theatre that effortlessly wins awards and delights audiences.
Buried Child was originally produced in 1978 at the Magic Theatre in San Francisco, directed by Robert Woodruff. Its inaugural New York production took place at the Theater for the New City a few months later, then it moved to the Theater de Lys in New York's Greenwich Village. In spring 1979 it won the playwright a coveted Pulitzer Prize.
The first London production took place at the Hampstead Theatre Club in 1980, directed by Nancy Meckler. In spring 1996 it enjoyed an eight week Broadway run after a run at Chicago's Steppenwolf Theatre. When Gary Sinise directed the play at the Brooks Atkinson Theater, it won five Tony nominations.
In 2016 the play returned to New York, raising the rafters at the Pershing Square Signature Center. Staged by the New Group, it was produced and directed by Scott Elliott, and starred husband and wife in real life, Ed Harris and Amy Madigan... and the rest is history. This play comes with an exceptional pedigree, a classic of our times.
Buried Child – The story
Farmers Dodge and Halie are struggling to keep their land and their sanity. Their wayward adult sons Sommer and Sparks are always in trouble, life's a struggle and when their grandson Vince arrives with his girlfriend, things get very weird. There's a dark secret being kept under wraps, and the family is determined to keep it from Vince.
This is a poetic and painfully funny take on American family life, and it ultimately destroys the illusions of family and home, with potent themes of family disintegration and disillusionment with the American Dream, all set against the hopeless backdrop of a real-life rural economic slowdown.
The critics love it, always a good sign. Take Ben Brantley of the New York Times, who calls it, "Thoughtful and absorbing". In his view, "Ed Harris is splendid. Mr. Elliott's production wants us to listen to Mr. Shepard's characters as if they truly were members of our own family, so that (just like our own family) they can sucker-punch us when we feel most unguarded." Other respected critics say much the same thing – this is a totally brilliant production, so grab tickets while you can.
Buried Child tickets – A potent and powerful play
Want premium, full price or discount Buried Child tickets? We always have great availability and you'll enjoy excellent value for money on the complete range of ticket types and seats, cheap to posh.
Buried Child cheap tickets
We have a great selection of cheap Buried Child tickets. We can help you save up to 70% on Buried Child tickets! If you're looking for discount theatre tickets have a look below for our latest offers for Buried Child at the Trafalgar Theatre.
There are no special offers available at the moment but we still have great ticket prices for Buried Child at the Trafalgar Theatre.
Buried Child reviews
4.3 out of 5
based on

21

reviews
What to expect:
Acting
Music
Costumes
Story
Lighting
Recommended for:
Anyone (24%)
Families (24%)
Teenagers (33%)
Couples (71%)
Theatregoers (90%)
Latest customer reviews

Weirdly entertaining
Reviewed on 07 March 2017 by Gordon, Glasgow, United Kingdom

The cast performances were superb. A thoughtful and thought provoking play that was brought to life perfectly by this cast, they got it just right Ed Harris is a class act, a true professional of his art.
Reviewed on 27 February 2017 by Lee, Harrow, United Kingdom

What was all the fuss about?!!
Too much whining and noise for a very weak plot line. The direction was strange... The sound of the rain was only at the start of a couple of scenes and mysteriously stops as the characters start speaking. Ed Harris's character, the old man coughs (melodramatically) only twice and at other equally heated moments carries on sounding fit and fine.
Reviewed on 25 February 2017 by Sunil, London, United Kingdom

Not a must see
Cast was amazing, story line too confusing
Reviewed on 14 February 2017 by Dana, London, United Kingdom

Enjoyable!
Reviewed on 10 February 2017 by Sumiko, London, United Kingdom

Interesting, but a typical Sam Shepard play.
Reviewed on 08 February 2017 by Andrew, Lee, United Kingdom

Accessible and thought provoking
Great show. We greatly enjoyed the journey through the show and the discussions about it afterwards.
Reviewed on 02 February 2017 by Phoebe, Castle Douglas, United Kingdom

Innovative showcase of stereotypes of America
Harris was wonderful, character was believable and very humorous at times. An interesting play, would highly recommend. Happy viewing.
Reviewed on 25 January 2017 by Jemma, London, United Kingdom

Intriging!
Very good show, interesting story line, very comical, and great acting. All views of the stage are good, but as the tiered seats are very steep, best to have a box, for more leg room. A great show for a night out!
Reviewed on 10 January 2017 by Maryja, Battersea, London, United Kingdom

Reviewed on 04 January 2017 by Warren, Kingston Upon Themes, United Kingdom

Great stage production
Reviewed on 30 December 2016 by Roxanne, London, United Kingdom

Cast were amazing and great story
Loved this 3 act show, great cast and excellent value for money.
Reviewed on 30 December 2016 by Deborah, Fareham, United Kingdom

A bleak look at horrible events
Like a train wreck, hard to look away. The story was fascinating and the characters compelling while being places you never want to be and people you never want to meet. Overall, surprisingly entertaining.
Reviewed on 29 December 2016 by Kevin, Boston, United States

So clever, amazing acting!
Reviewed on 22 December 2016 by Jodine, Colchester, United Kingdom

Ed Harris is masterful.
Reviewed on 27 November 2016 by Judith, London, United Kingdom
08

Dec
2016

Review: BURIED CHILD at the Trafalgar Studios
by Phil Willmott | Thursday, December 8 2016, 18:23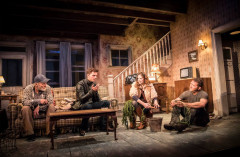 The people of America's rust belt, a vast area of deprivation, formally the home of now depleted heavy industry, have been much in our minds recently. Their disillusionment with and establishment politics are seen as a major contributing factor in the election of President-elect Donald Trump.
Review: BURIED CHILD at the Trafalgar Studios
02

Sep
2016

An Exciting Autumn Line up at Trafalgar Studios
by Phil Willmott | Friday, September 2 2016, 00:02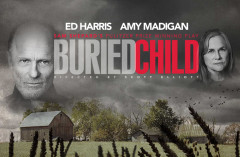 There are exciting rumours about the autumn season at Trafalgar studios with more details available soon. Here's what we know so far!
The line up looks set to include BURIED CHILD, Sam Shepard's gleefully gothic tale of dysfunctional rural American life.
An Exciting Autumn Line up at Trafalgar Studios