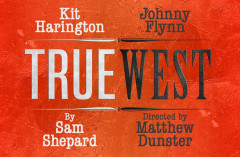 It's just been announced that Game Of Thrones' star KIT HARINGTON is returning to the West End in Sam Shepard's sizzling play about rival brothers, TRUE WEST.
I'm suprised to discover it's never been presented in the West End before as it's an undisputed masterpiece and contains two exceptional roles for leading actors.
Harrington will be joined by acclaimed actor JOHNNY FLYNN as his warring sibling.
The Press release reminds us that the play is set "against the searing heat of the Californian desert, Shepard's critically acclaimed drama pits brother against brother as a family tears itself apart, exposing the cracks in the American Dream. Austin is working on a movie script that he has sold to producer Saul Kimmer when Lee stumbles back in to his life. Never content to watch from the sidelines, he pitches his own idea to Kimmer, an action which has far reaching consequences...Two of the most challenging and sought after roles in modern drama, some of the greatest American and British actors of the last 30 years have played the brothers since the play's debut in 1980"
This will be the first UK production of Shepard's work since his death last summer. Widley recognised as one of the late twentieth centuries finest American writers, his dark and gothic plays include The Tooth of the Crime, The Curse of the Starving Class, Fool for Love, True West, A Lie of the Mind, and Buried Child, for which he won a Pulitzer Prize in 1979. As a writer and director, he filmed Far North and Silent Tongue. As an actor, he appeared in numerous films, including The Right Stuff, Days of Heaven and Resurrection.
I loved Harigton's work in GAME OF THRONES and his last West End appearance in DR FAUSTUS and Flynn was brilliant as the young Albert Einstein in TV's GENIUS so I'm very excited about this one.
Their fans will be too - so make sure you book soon!
True West will play a limited season at the Vaudeville Theatre from Friday 23 November – Saturday 16 February.