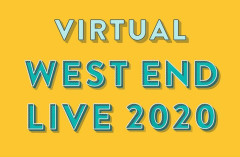 Well done to the plucky organisers of West End Live.
It's usually the weekend when theatre lovers gather in Trafalgar Square in the sunshine to watch performers from the capital's musicals present excerpts from their shows.
I've attended a few times when a show of mine is represented and there's always a lovely festive atmosphere with a big diverse crowd of all ages, all sharing in their passion for musicals.
If you're launching a new one it's a great platform to share the news, get people excited - and sell tickets, which is after all the point of it all and performers and their creative teams aim to present something as slick as possible to lodge in the mind of potential audience members.
Which brings us to 2020.
There are no tickets to sell, crowds are frowned upon and we're all baffled by Monday's announcement that performing, and public singing in particular is banned. Depending on who you listen to this is either to protect the performers or the audience from the extra droplets of bodily fluid singing might produce.
So what to do? Move it all on line of course. Here's the key points from their Press Release -
The West End Live will kick off on Saturday 20 June with a live quiz at 11am online, followed by a highlights video being streamed on the organisaton's Facebook channel from 2pm.
The hour-long highlights video will feature performances from West End Lives past.
Finally, Ben Stock will perform a live sing-a-long on the same Facebook page from 3.30pm.
Sunday's (21 June) schedule will be similar, with a second part to the quiz taking place at 11am.
The organisation will release a Spotify playlist at 12.30pm, with a second highlights programme being streamed from 2pm.
Dominic Ferris will be taking live piano requests from 4.30pm on Facebook.