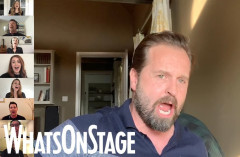 This weekend we celebrate V.E. Day, the date 75 years ago when Hitler and his Fascists were considered to have lost the Second World War.
A dark grey London which had to had to maintain a blackout during the conflict so as not to attract the attention of German bombers overhead suddenly flared into life as the street lights came on, the shops lit up and church bells rang out to mark our victory. There were street parties and dancing everywhere. But one particular song has come to represent British resolution and forbearance in a crisis.
You may have heard it played on Thursday evenings recently, when we all stop what we're doing, go outside, applaud and play music that celebrates the bravery of our health professionals as they risk their lives keeping the Corona Virus at bay.
That song is WE'LL MEET AGAIN with music and lyrics composed and written by Ross Parker and Hughie Charles. It was originally performed as the title number in a long forgotten movie. The song has endured though, thanks to a much loved wartime recording by Vera Lynn.
Now, scores of West End stars including Sharon D Clarke & Alfie Boe have marked VE Day with a new choral version. They're joined by Gyles Brandreth, Sharon D Clarke, Jonah Collier, Bill Deamer, Louise Dearman, Kerry Ellis, Shaun Escoffery, Ferris and Milnes, Maria Friedman, Bradley Jaden, Cassidy Janson, Joe Pasquale, Hannah Waddingham, Layton Williams and Michael Xavier.
You can hear the result here:
WE'LL MEET AGAIN became a bit of a cliché in the years after the war. The British wanted to look forward rather than dwell in the past and the lyrics and Lynn's earnest style seemed irrelevant and of another era. But it's worth revisiting the powerful sentiment the words convey, remembering that the original listeners had no idea if they'd ever see their loved ones again.
We'll meet again
Don't know where
Don't know when
But I know we'll meet again some sunny day
Keep smiling through
Just like you always do
'Till the blue skies drive the dark clouds far away.
During the Corona pandemic those words seem to have become as appropriate to our struggle as they were to our grandparents, 75 years ago.