Quick Facts
Largest Ticket Inventory
in the West End
Real time
seat availability
Choose
your seats
Your booking is processed directly into the box office reservation system
This show is now closed.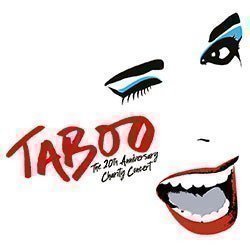 Taboo
Tickets
4.7/5
-

based on

16

reviews
Information
Cheap Tickets
Reviews
About Taboo
Performance Times
Taboo description
​​Boy George's award-winning musical Taboo returns to London for one night only to celebrate the 20th anniversary of the show's original production. This star-studded charity concert featuring members of the original cast is in aid of the Terrence Higgins Trust and Shelter.
In 1985 brilliant designer and performance artist Leigh Bowery opened legendary London nightclub Taboo. Frequented by Boy George and other legends of the New Romantic scene Taboo quickly became the hottest club in town.
Taboo is a love story played out against the fantastic background of the nightclub that came to symbolise the excess and decadence of 1980s London, and subsequently defined a generation. These were the leaders of a phenomenon which left a lasting influence on both the face and fate of pop, fashion and social culture.
The original West End production of Taboo helped launch the careers of many now illustrious performers including Luke Evans, Matt Lucas, Diane Pilkington, Declan Bennett, Euan Morton, Lyn Paul, Stephen Ashfield & John Partridge. Julian Clary and Boy George himself all made their West End debuts in the show playing the fabulous Leigh Bowery, and Paul Baker won a much-deserved Olivier Award for his portrayal of Philip Salon.
With Music & Lyrics by Boy George and Kevan Frost, Book by Mark Davies Markham and direction by the original West End and Broadway Director Christopher Renshaw, don't miss your chance to see this incredible concert of the world's most outrageous, vibrant and infectious musical and book your tickets today!
Important COVID Entry Requirements
Mask
You are required to wear a mask while inside this venue.
Proof of test or vaccination
You are required to show proof of a negative COVID-19 test or proof of vaccination in order to attend this performance.
Covid safety
This venue has additional Covid-19 safety measures in place to ensure the health and well-being of the staff, performers, and guests.
Taboo cheap tickets
We have a great selection of cheap Taboo tickets. We can help you save up to 70% on Taboo tickets! If you're looking for discount theatre tickets have a look below for our latest offers for Taboo at the London Palladium.
There are no special offers available at the moment but we still have great ticket prices for Taboo at the London Palladium.
Taboo reviews
4.7 out of 5
based on

16

reviews
What to expect:
Acting
Music
Costumes
Story
Lighting
Recommended for:
Anyone (63%)
Families (63%)
Teenagers (88%)
Couples (88%)
Theatregoers (100%)
Latest customer reviews

Best show ever
This is the best theatre show I have ever seen. Flawless acting and singing. Great story in a small setting. Beats any West End show. Will book again
Reviewed on 24 December 2012 by Anonymous

Fun Night Out for Fans of the 80s!
Reviewed on 23 December 2012 by Anonymous

A MUST SEE!!!
There is such an array of talented actors, from the supporting cast to the leads! The energy on stage was amazing. From the first second to the end, the cast keeps you hooked! Congratulations, you were all fantastic!!!!!!!!!!
Reviewed on 17 December 2012 by Anonymous

Amazing show
Taboo was so amazing the first time round, My husband and daughter and I booked to return just two weeks later. The level of professionalism, is second to none. The venue was superb, the acting amazing the sound track unforgettable. This really is an amazing experience for anyone wanting to see a top class show. I would certainly return again and again.
Reviewed on 10 December 2012 by Anonymous

Reviewed on 05 December 2012 by Anonymous

WOW!!!!!!!!
Reviewed on 01 December 2012 by Anonymous

Terrific Taboo
Great show - brilliantly staged and performed.
Reviewed on 30 November 2012 by Anonymous

Review of revamp!
This is the 6th time that I have seen Taboo and Paul Baker never fails to disappoint. He was OUTSTANDING! I was a bit upset by some of the changes of song, such as omitting Independent Woman and Krishna at the end as they are both such such feel good songs. However, for anyones first visit to see the show would not be disappointed by the show. A word of advice try not to see at the end of the rows nearest the stage as some of the pillars block the action by the bar. Would recommend to anyone who truly loved the 80s!
Reviewed on 25 November 2012 by Anonymous

Reviewed on 19 November 2012 by Anonymous

Taboo - hilarious and sometimes poignant reminder of life in the 80's
Fab venue - audience participation - funny and sad - all round excellent show
Reviewed on 27 October 2012 by Anonymous

Astounding
Last night was brilliant. The setting is pretty intimate, with some interesting audience interaction involving fish canapes and the unexpected performance of an audience member. The seating was arranged around the performance area which gave the piece a cabaret atmosphere. Depicting a gone era, whose echos resonate with us today, Taboo centres around a love story, the trials and tribulations of a young star's rise to fame and the demise of an icon. It's a gem of the theatre and comes highly recommended.
Reviewed on 25 October 2012 by Anonymous

Taboo - A must see!
Fantastic cast, great show full of laughter and tears. Go back to the eighties for the night. Well worth a visit 10/10
Reviewed on 24 October 2012 by Anonymous

A thoroughly enjoyable evening
Taboo at the Brixton playhouse was fantastic. The staging was great and you really felt part of the show. A thoroughly enoyable evening.
Reviewed on 14 October 2012 by Anonymous

Taboo
Lovely informal venue which took me right back to the 80's. It fitted the tone of the show really well. The staging used the space to it's full potential. The show had energy, charm, humour & poignancy. A great pace & energy led you through as we'll as the light & shade moments. I came out feeling uplifted. Superb ensemble cast. Go & see.
Reviewed on 08 October 2012 by Anonymous