Quick Facts
Largest Ticket Inventory
in the West End
Real time
seat availability
Choose
your seats
Your booking is processed directly into the box office reservation system
This show is now closed.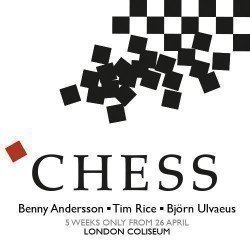 Chess
Tickets
4.7/5
-

based on

14

reviews
Starring: Michael Ball, Alexandra Burke, Cedric Neal, Tim Howar, Cassidy Janson
About Chess
Performance Times
Starring:
Michael Ball, Alexandra Burke, Cedric Neal, Tim Howar, Cassidy Janson
Chess description
Is this really a musical about a chess game? Well, yes and no. It's about two grandmasters – that's the highest title you can ever be awarded for playing chess – and a match for ultimate supremacy. But it's also set in the middle of the Cold War, when two governments were vying the same political title, the grandmaster of the world (so to speak).It's also about love – because what would a musical be if we didn't throw in a complicated love interest too! Back in 1986, when it first premiered, that love interest was played by none other than West End superstar, Elaine Paige.
But still, why do I want to see a musical about Chess?Well, it's not been on in the West End for over 30 years, so it's pretty exciting that it's coming back. Also, it's playing at the London Coliseum, which is running full steam ahead with musical revivals at the moment. Don't forget, it recently had Katherine Jenkins with Alfie Boe in Carousel. Before that, the stage was graced by the presence of Glenn Close and Michael Xavier for Sunset Boulevard.
Who's it by? It better be someone good for me to watch a show about Chess! Oh, it absolutely is. The music is composed by Benny Andersson and Björn Ulvaeus – they're from ABBA, so they know a thing or two about writing catchy songs! The lyrics are by Sir Tim Rice, who's had more than a couple of hits on the West End…Think Joseph and the Amazing Technicolor Dreamcoat; think Evita; think Jesus Christ Superstar. He's done some others too in case you haven't heard of those – basically, he's a pretty huge deal.
Sounds like it's full of great talent! But it's a musical and I don't know any of the songs! Yes, you do. In fact, the original production, which premiered on the West End in 1986, was preceded by a concept album in 1984. That was a long time ago, granted, but the most famous song from the show is "I Know Him So Well". It was originally sung by Barbara Dickson and Paige, got to number 1 in 1985 for three weeks and won an Ivor Novell Award. It's also widely listed as one of the Top 10 best-selling duets ever in the UK. Play it now and watch yourself unexpectedly singing along!
Chess reviews
4.7 out of 5
based on

14

reviews
What to expect:
Acting
Music
Costumes
Story
Lighting
Recommended for:
Anyone (64%)
Families (64%)
Teenagers (64%)
Couples (93%)
Theatregoers (93%)
Latest customer reviews

Updated version of a great musical
I've seen the show 32years ago in London and was thrilled to see it again. New lighting and other modern stage technology add to the experience today. The singers were brilliant and at least one song was added to the original recording. In short: great performance, wonderful music and excellent singers! Bravo
Reviewed on 04 June 2018 by Peter, Raemismuehle, Switzerland

Tremendous musical experience
Already seen the Show 1989, this new show was outstanding, I am just thrilled, all voices were perfect, it was a touching perfomance. I am so sad that it runs only for such a short while. I came from Vienna because of one reason: to see this show (twice), man, how glad, happy and lucky I am ...
Reviewed on 03 June 2018 by Reinhard, Vienna, Austria

Amazing Show , wonderful Music . Perfect!!!!
A must have seen musical
Reviewed on 25 May 2018 by Andreas, Cologne, Germany

A must see
Reviewed on 22 May 2018 by Dainis, Howald, Luxembourg

Just what a west end show should be
Didn't know what to expect but Chess gas everything! The fact that there us a fully orchestra, very talented singers and great use of video and lighting makes this a must see show for theatre goers.
Reviewed on 19 May 2018 by Jennifer, Bedford, United Kingdom

Good entertainment
Reviewed on 18 May 2018 by Tony, Wellington, New Zealand

Michael Ball - he's the man!
Never seen Chess before...there is only one song that I know/knew...but to be honest you just have to enjoy it in the moment Michael Ball is fabulous...and so is Alexander Burke and the rest of the cast....just enjoy the wonderful sound they create - in an amazing venue...with a really good set. Oh and the orchestra are great!
Reviewed on 13 May 2018 by Colin, Didcot, United Kingdom

Magnificent
An excellent update on the original using clever effects and graphics
Reviewed on 10 May 2018 by John, Diss, United Kingdom

Amazing
Shame it will be such a short run meaning many will miss out. Direction and production immaculate, singing brilliant, acting superb - a spectacular touching all the senses!
Reviewed on 10 May 2018 by Jan, Worcester, United Kingdom

Overproduced
I am a fan of the score having never seen a production. To say I was disappointed is overly simple. The sets were fantastic but the video over done and silly at times. Voices were good but at times seemed screeching. Casting seemed out of place for characters and distracting when following plot. I couldn't sit through it ever again!
Reviewed on 06 May 2018 by Gregg, New York, United States

Great show
Liked it immensely but thought casting a bit odd.
Reviewed on 03 May 2018 by Martyn, Horley, United Kingdom
03

May
2018

Second Look: CHESS at ENO London Coliseum
by Stuart King | Thursday, May 3 2018, 12:57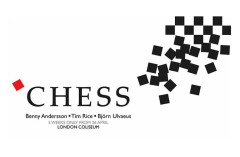 CHESS represents a quite extraordinary and singular accomplishment in musical theatre: essentially, the original is almost universally loved by anyone who has anything whatsoever to do with... musical theatre.
Second Look: CHESS at ENO London Coliseum
02

May
2018

Review: CHESS at the London Coliseum
by Phil Willmott | Wednesday, May 2 2018, 13:25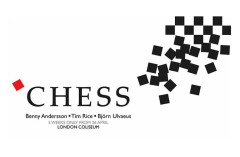 There's an old theatrical adage, the clean version of which goes, "You can't polish a dud but you can roll it in glitter" and oh, the glitter wrapped around the first ever revival of rock musical CHESS currently enjoying a limited run at the London Coliseum.
Review: CHESS at the London Coliseum