Quick Facts
Largest Ticket Inventory
in the West End
Real time
seat availability
Choose
your seats
Your booking is processed directly into the box office reservation system
This show is now closed.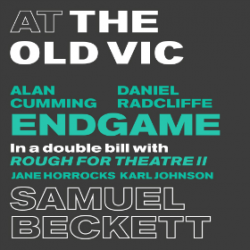 Endgame
Tickets
4.7/5
-

based on

3

reviews
About Endgame
Performance Times
Endgame description
Go and get two bicycle-wheels.'
'There are no more bicycle-wheels.'
'What have you done with your bicycle?'
'I never had a bicycle.'
Nothing stirs outside. In a bare room, Hamm, an old, blind tyrant, is locked in a stalemate with his servant Clov. Interrupted only by the nostalgic musings of Hamm's ancient, dustbin-dwelling parents, this bleakly funny double act cling stubbornly to their routine of casual savagery and mutual dependence.
Richard Jones (The Hairy Ape, Into the Woods) directs Beckett's macabre comedy in which hope and cruelty are the last things to die.
Endgame will be presented in a double bill with Samuel Beckett's rarely seen short play Rough for Theatre II, performed by members of the company.
Endgame reviews
4.7 out of 5
based on

3

reviews
What to expect:
Acting
Music
Costumes
Story
Lighting
Recommended for:
Anyone (67%)
Families (67%)
Teenagers (67%)
Couples (67%)
Theatregoers (100%)
Latest customer reviews

Hard work
Great cast and brilliant acting. The story I had unknown aspects to it and needs concentration to follow and understand. Had comedic aspects but isn't a fun show and probably wouldn't suit people who enjoy lighthearted entertainment.
Reviewed on 24 February 2020 by Barbara, Crewe, United Kingdom
11

Mar
2020

Review: ENDGAME (with ROUGH FOR THEATRE II) at The Old Vic
by Stuart King | Wednesday, March 11 2020, 10:38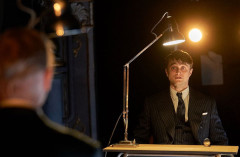 Endgame (played after the rarely staged, but considerably more satisfying Rough for Theatre II) has been a box office draw for The Old Vic this season, where Daniel Radcliffe and Alan Cumming deliver Beckett's quirky tales with sufficient spark and comedic zest, to demonstrate an affinity with the oft impenetrable material.
Review: ENDGAME (with ROUGH FOR THEATRE II) at The Old Vic
27

Jan
2020

ENDGAME: Have You Booked Your Ticket Yet?
by Josephine Balfour-Oatts | Monday, January 27 2020, 09:39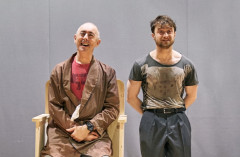 Everything you need to know ahead of the opening of Endgame at The Old Vic on the 27th of January - this is not a show to be missed.
ENDGAME: Have You Booked Your Ticket Yet?