London Coliseum
St Martin's Lane, London, WC2N 4ES GB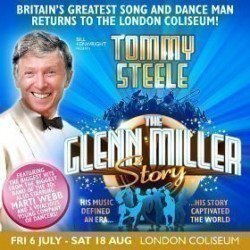 The Glenn Miller Story
Tickets
London Coliseum
Starring: Tommy Steele, Marti Webb
Book

tickets
Show Closed
This show is now closed.
Glenn Miller's untimely death in  an air crash during 1944 was an international tragedy. More than seventy years later, the Glenn Miller Band is being celebrated in the West End with Brit music legend Tommy Steele in charge. It's going to be epic.
Tommy Steele holds the honour of being Britain's first ever rock 'n' roll star, our own home-grown Elvis. He's been on stage for a long, long time, making his début way back in 1958 in Rodgers and Hammerstein's Cinderella, which sold out night after night at the London Coliseum. The London Coliseum is home to the English National Opera, a fitting venue for a very special show. Steele himself has always loved Glenn Miller's music. And Miller actually provided the inspiration the young Tommy needed to make it in show business. It's good to see the circle complete.
Now Tommy Steele returns to the Coliseum once more, this time to salute his idol Glenn Miller in a magical, fresh new musical production. And it is absolutely stuffed with Miller classics, from In the Mood to Moonlight Serenade, Pennsylvania 6-5000 to Tuxedo Junction, and of course the irresistible Chattanooga Choo Choo.
It took Miller and his band just four years to clock up more number one chart hits than Elvis and the Beatles, twenty three in total. As you can imagine, when the musician's plane disappeared in bad weather, during December 1944, while en route to entertain US troops in France, the world mourned.
The show's Producer is Bill Kenwright, and it's directed by Kenwright and Bob Tomson. Bill Deamer is the Choreographer and Mark Bailey the Designer.
Who is this show for?
This show is all about the music, and music is ageless and timeless. Anyone over five years old is very welcome.
If you want to celebrate the life, fame and untimely death of the legendary big band leader and trombone player whose tunes defined an era, grab tickets while you can. It's going to be a proper show-stopper of a night out.
Customer Reviews
What to expect:
Acting
Music
Costumes
Story
Lighting
Recommended for:
Anyone
Families
Teenagers
Couples
Theatregoers
based on 12 reviews
Music was Great
I LOVE the music of Glenn Miller, and the story. This show was very very disappointing. Why on EARTH would you cast an 82 year old Brit to play a 30-40 year old American? Tommy Steel is a legend, and would have been fine if just narrating, but absolutely wrong in this role. He could barely stand straight ... in fact I don't think that he does at all ... and definitely couldn't take part in the dancing. Some of the costumes were very poor, I think of one of the US Army captains or something and it looked like he had a night shirt on. The set sometimes looked like something from a local amateur dramatics society The dancing was fun, and the music was fantastic. I left feeling deflated
Kay London Box Office customer
A Nostalgia Trip
Tommy Steele was excellent,Marty Webb was wooden. The overal show lacked energy on the part of the dancers,looked under rehearsed, The Band were superb and expected more . A very pleasant show with fantastic music but some aspects of the rest of it let the show down a bit.
Marilyn London Box Office customer
absolute magic
the most amazing show we have ever seen Tommy steele and Marti Webb and the team made us feel as if we were part of the performance True proffessional entertainers of which sadly very few are left We feel blessed to have had a chance to see them THANKYOU SO MUCH to everyone involved with the performance
linda London Box Office customer
Absolutely Brilliant
A story brought to life by such a legend. Absolutely brilliant
Sue London Box Office customer
awesome
Robert London Box Office customer
Brilliant
It was a brilliant show. Tommy Steele included the audience and you felt you were not in a theatre.
Ann London Box Office customer
The music and dancing so good.
Definitely worth seeing
Margaret London Box Office customer
what an entertainer!
A superb evening out at the theatre.Do not miss this chance to see one of the best entertainers in the business...Tommy Steele. Truely amazing and you can see in his face he loves being on the stage. I found the show quite emotional for personal reasons . Glenn Miller being a favourite of my late parents and also being Bermondsey born just like Tommy. If you get the chance book your seat now,
Jacqueline London Box Office customer
A well told story by an excellent story teller
John London Box Office customer
Thoroughly enjoyed!
I am truly thrilled to have seen the wonderful Tommy Steele singing and strutting his stuff in person, with as big a smile and glint in his eye as I have enjoyed from his films. The cast of singers and dancers were full of energy and looked like they were enjoying themselves. Having a band on stage playing the music in person added so much to the event and we enjoyed the sing-a-long at the end. My husband who just came to keep me company did really enjoy the performance too.
Jenni London Box Office customer
Must see, brilliant big band show.
A must see musical for lovers of big band music, dance & Tommy Steele!
Joan London Box Office customer
Use the search box at the top left of this page to search for The Glenn Miller Story tickets availability.
Quick Facts
Largest Ticket Inventory in the West End
Real time seat availability
Your booking is processed directly into the box office reservation system
Collect your tickets from the theatre for free or get them posted to your address.

Theatre Address
London Coliseum
St Martin's Lane, London, WC2N 4ES GB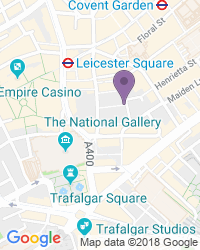 Facilities
Air conditioned
Bar
Infrared hearing loop
Toilets
Wheelchair/scooter access
Theatre Info
Capacity: 2358
Year built: 1904