Quick Facts
Largest Ticket Inventory
in the West End
Real time
seat availability
Choose
your seats
Your booking is processed directly into the box office reservation system
This show is now closed.
Guys and Dolls
Tickets
4.6/5
-

based on

28

reviews
About Guys and Dolls
Performance Times
Guys and Dolls description
A Musical Fable of Broadway
Hailed as the perfect musical comedy, Guys and Dolls rolls the dice as it swaggers into the Royal Albert Hall this October with the Royal Philharmonic Concert Orchestra and an all-star cast in a semi-staged concert directed by Stephen Mear (Gypsy, Singin' in the Rain).
This sizzling New York tale of gamblers, gangsters and nightclub singers (and a missionary) features some of Broadway's greatest show-stopping tunes, including Luck be a Lady, Sit Down You're Rockin' the Boat and My Time of Day.
Join the smooth Sky Masterson (Adrian Lester) , sweet, sad, cold-prone Miss Adelaide (Meow Meow), no-good Nathan Detroit (Jason Manford) and the straight-talking, gambling-opposing Sarah Brown for this unmissable feel-good show.
Cast includes: Lara Pulver, Stephen Mangan, Paul Nicholas, Sharon D Clarke, Jason Manford, Meow Meow, Adrian Lester, Clive Rowe, Joe Stilgoe, Cory English and Arvide Abernathy.
Stephen Mear Director/Choreographer 
James McKeon Musical Director 
Morgan Large Designer
Based on a Story and Characters by Damon Runyon
Music and Lyrics by Frank Loesser 
Book by Jo Swerling and Abe Burrows
Presented by arrangement with Music Theatre International (Europe)
Guys and Dolls reviews
4.6 out of 5
based on

28

reviews
What to expect:
Acting
Music
Costumes
Story
Lighting
Recommended for:
Anyone (82%)
Families (82%)
Teenagers (86%)
Couples (89%)
Theatregoers (100%)
Latest customer reviews

Excellent Cast, well staged. Good Evening out.
Reviewed on 10 March 2016 by Stephen, Sterrebeek, Belgium

Fabulous production.
Reviewed on 05 March 2016 by Russell, Rochester, United States

Brilliant - my first ever! I am hooked!
Reviewed on 02 March 2016 by Dimitrios, Seaton, United Kingdom

vibrant
Reviewed on 02 March 2016 by Nicholas Robin, Snaroya, Norway

We thought the story was a bit weak but the acting costumes performances were amazing. Just not our thing sorry
Reviewed on 24 February 2016 by Jacqueline, Coventry, United Kingdom

great performance - very positive - fun and better to see that to hear about
i may say must see but it is definitely better to see.
Reviewed on 21 February 2016 by Anatoli, London, United Kingdom

Not for the younger generations
Thought the second half was much better than the first. Would not recommend it to anyone, but my father in his 80's loved it. Thought the ice cream system was excellent at the interval .
Reviewed on 19 February 2016 by Sarah Jane, Little Milton, United Kingdom

Great night out!
Reviewed on 16 February 2016 by Andrew, Ruislip, United Kingdom

good night out
Good night out
Reviewed on 16 February 2016 by Mark, Bilston, United Kingdom

Even if you don't know many of the music/songs played the story is excellent.
Reviewed on 14 February 2016 by Peter, Ashford, United Kingdom

Great fun
Loved the show. Funny and some amazing singing voices
Reviewed on 13 February 2016 by Jacqueline, Rainham, United Kingdom

Heartwarming - you leave with a smiling heart
Absolutely loved this show. The cast clearly enjoyed themselves and that enjoyment transferred itself to the audience. It was funny, touching, serious, all together in one go as you would expect from Guys and Dolls. Guys and Dolls and Sit Down You're Rocking the Boat were showstoppers. Particular mention to Sophie Thompson who was wonderful as Miss Adelaide and how do you not fall in love with Jamie Parker's Sky Masterson. Big Jule was played by Max Parker in this performance and what a lovely job he made of it. Wonderful rendition of Sit Down by Gavin Spokes . I want to see it again - I wanted to the minute I walked out of the theatre with my heart smiling and singing.
Reviewed on 12 February 2016 by Marie, Doncaster, United Kingdom

Exciting and quick moving
Reviewed on 05 February 2016 by Caryl, Stike On Trent, United Kingdom

Lively, light-hearted blast of fun!
Loved the show - already knew the songs from the classic film starring Marlon and Frank and the stage show was just fabulous - great singing, great dancing, superb orchestra. Loved the 'drunken dance' by Sister Sarah - great acting combined with great dancing. Lighting effects simple but beautiful. Woke up the next day singing!
Reviewed on 03 February 2016 by Yvonne, Perranporth, United Kingdom

must see
Reviewed on 03 February 2016 by John, Warrington, United Kingdom

Amazing production!
Reviewed on 31 January 2016 by Serena, Worcestershire, United Kingdom

An enjoyable evening out
Reviewed on 14 January 2016 by Colin \, Billericay, United Kingdom

One of the greats
I have not seen Guy's and Doll's since a school production back in 2005 - but oh did this rendition live up to it tenfold!! The story was great, the actors were wittty, the lightening was brilliant ... but the musical numbers were truly exceptional. Miss Adelaide (Sophie Thompson) and Nathan Detroit (David Haig) were amazing, their chemistry was red hot, demonstrated perfectly in 'Sue Me.' Sky Masterston (Jamie Parker) was also portrayed very colourfully, especially in 'Luck be a Lady,' where the energy was tangible. My only slight hesitation was with Siubhan Harrison's portrayal of Sarah Brown. Although I thought characteristically she was pretty accurate, I found her singing a little too 'regal' for such a glitzy and truly American show. My final mention goes to Gavin Spokes who played Nicely-Nicely Johnson, as he took the win in the musical numbers with 'Rock the boat', the applause was electric and more than double that of any of song. However, if you're looking for a fun night out with some well known tunes, look no further as Guy's and Doll's is a definite must see.
Reviewed on 10 January 2016 by Emily, Haywards Heath, United Kingdom

enjoyable show!
Enjoyable show which 'warmed up' in the second half. Impressive performances by David Haig and Sophie Thompson. I have in the past always enjoyed watching David Haig when he occasionally appeared on TV but this was the first time I had actually seen him live on-stage and I was particularly impressed by his performance!
Reviewed on 03 January 2016 by Stuart, London, United Kingdom

Fast-moving lively show
Superb show. Lively, colourful, fast-moving production. The cast was tremendous, with outstanding voice quality, clarity and diction. One of the best shows I've seen. I have absolutely no hesitation in recommending it.
Reviewed on 03 January 2016 by Judith, Hemel Hempstead, United Kingdom

A wonderful feel good experience
Our seats were just what we expected following our booking. The show was wonderfully put together, dancing outstanding, great acting and singing in particular from Nicely Nicely Johnson. Jaime Parkers singing was spot on and David Haig and Sophie Thompson did great justice to their roles. A thoroughly enjoyable 3 hours of toe tapping theatre.
Reviewed on 01 January 2016 by Lynette, Herts, United Kingdom

Feelgood, fun outing for anyone
Reviewed on 29 December 2015 by Susan, Reigate, United Kingdom

Toe tapping
Wonderful fun show with lots of familiar songs! A great evening out for all the family
Reviewed on 27 December 2015 by Anna, Sevenoaks, United Kingdom

Guys & Dolls a Must See
We enjoyed the show from start to finish, staging, singing, dancing, orchestra and cast all top class. Came out with a 'song in our hearts'. A wonderful way to begin the Christmas holiday.
Reviewed on 24 December 2015 by Patricia, Amersham, United Kingdom
03

Mar
2016

Meet the New Guys and Dolls
by Phil Willmott | Thursday, March 3 2016, 21:29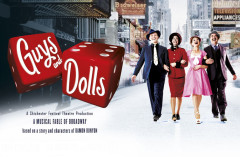 Who'd have thought that this season's smash hit musical would be a show that's nearly half a century old!
GUYS AND DOLLS which many people, including me, consider one of the greatest musicals ever written, has been constantly revived all over the world in major, community and school productions ever since its Broadway première in 1950.
Meet the New Guys and Dolls