Quick Facts
Largest Ticket Inventory
in the West End
Real time
seat availability
Choose
your seats
Your booking is processed directly into the box office reservation system
This show is now closed.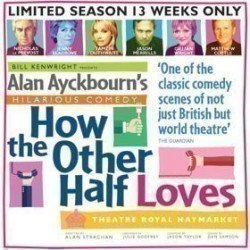 How The Other Half Loves
Tickets
4.4/5
-

based on

54

reviews
Starring: Tamzin Outhwaite, Nicholas Le Prevost, Jenny Seagrove
About How The Other Half Loves
Performance Times
Starring:
Tamzin Outhwaite, Nicholas Le Prevost, Jenny Seagrove
How The Other Half Loves description
Alan Ayckbourn's How the Other Half Loves was first performed way back in 1969, at the Library Theatre in Scarborough, his second play. And it features the tropes you expect from one of our best-loved playwrights: couples at war, horribly funny misunderstandings, infidelity and lies... and of course that infamous, typically-Ayckbourn interconnecting stage set.
How The Other Half Loves – The story
Jason Merrells and Jenny Seagrove play Bob and Fiona, two married people having an affair. Bob is Frank's employee, and Frank has no idea his wife is seeing Bob. When their respective partners get suspicious, the illicit lovers use a third couple, the hapless and wholly innocent William and Mary Featherstone, to create an alibi.
William also works for Frank, as the company accountant, and when he and his mousy, shy wife Mary are asked to dinner two nights running, once with Frank and Fiona and once with Bob and his wife Teresa, things soon start to get messy as the lovers' subterfuge unravels.
The two dinner parties are played out simultaneously, with William and Mary the guests at two tables on different nights. Brilliant! Typical Ayckbourn, the play is also set across two different living rooms, on stage at the same time.
The Fosters are wealthier, reflected by their smart furnishings and larger home, while the Phillips' home is messier, thanks to a new baby. If you love vintage décor you'll appreciate the gorgeous 1960s geometric designs, thanks to designer Julie Godfrey. The complex dance between the two homes is a masterpiece in itself, with the scenes in the different living rooms inter-cut dramatically.
Ayckbourn is loved by millions of theatre fans for his humane and deeply intelligent writing, and this fast-paced farce is designed to delight. Jenny Seagrove plays Fiona's chilly superiority to perfection, Nicholas Le Prevost aces the role of the awkward, bumbling Frank and Tamzin Outhwaite makes for an excellent feminist. Jason Merrells plays the arrogant Bob with humour and flair, and both Matthew Cottle and Gillian Wright make a top job of the third couple, skilfully revealing their relationship's cruel undertones.
This is the play's first major West End revival, directed by Alan Strachan and a fine portrayal of one of the playwright's most popular pieces, an uncomfortably funny tale of social graces and personal misunderstandings. Don't miss it!
How The Other Half Loves tickets – A major West End revival
Want premium, full price or discount How The Other Half Loves tickets? We always have great availability and you'll enjoy excellent value for money on the complete range of ticket types and seats, cheap to posh.
How The Other Half Loves reviews
4.4 out of 5
based on

54

reviews
What to expect:
Acting
Music
Costumes
Story
Lighting
Recommended for:
Anyone (50%)
Families (50%)
Teenagers (56%)
Couples (89%)
Theatregoers (94%)
Latest customer reviews

Hilarious throw back to '79's.
Reviewed on 26 June 2016 by Greg, London, United Kingdom

Very good revival
Really well timed, which this play has to be. One or two moments when dialogue was missed as the actors should have waited for audience response to subside.
Reviewed on 24 June 2016 by Paul, Clitheroe, United Kingdom

Hilarious, brilliant must see!
Reviewed on 19 June 2016 by Andrei, Loughton, United Kingdom

Wonderful farce
Excellent play all acted. Terrific cast made a most enjoyable time.
Reviewed on 19 June 2016 by Michael, Christchurch, United Kingdom

Very entertaining evening out
Went to this with two friends who had only ever seen musicals at the theatre before and wanted to try a play. It was very funny and extremely well acted, i would imagine the timing was very tricky to get right but all the actors did so perfectly and the imaginative use of the props and set was excellent. The story was very amusing and, I would think, most people would be able to relate to it one way or another and i would highly recommend it to anyone.
Reviewed on 19 June 2016 by Angela, Rochester, United Kingdom

Laughter all the way
Reviewed on 17 June 2016 by Jean, Aylesbury, United Kingdom

Most enjoyable
Classic Aykbourne - well presented and played superbly.
Reviewed on 17 June 2016 by Nicholas, London, United Kingdom

1960's Period Piece
Reviewed on 16 June 2016 by Andrew, Worcester, United Kingdom

Amusing light comedy about relationships
Pleasantly funny, good cast performed well.
Reviewed on 14 June 2016 by Michael, Blackburn, Australia

Amusing
If you are an Alan Ackborn fan then this is a must for you. The timing in the play keeps the story line going & brilliant acting of all 6 actors
Reviewed on 09 June 2016 by Sue, Harpenden, United Kingdom

See it while you can
A knockout cast, wonderful script and direction, this is a great evening out.Technically hard to pull off, it works like a charm, the audience erupting in laughter every 45 seconds or so. Ayckbourn is a master in this genre, and I laughed as much as I did last night as I did at "Noises Off" years ago.
Reviewed on 04 June 2016 by Richard, London, United Kingdom

clever
Reviewed on 03 June 2016 by Marilyn, Clacton On Sea, United Kingdom

A night in theatreland
Great show, very funny and entertaining, I especially wanted to see it, as I played the character "William Featherstone" in amateur production 6 years ago with my amateur dramatics company I belong to. Thank you London Box office for up grading my tickets from the gallery to the upper circle.
Reviewed on 03 June 2016 by Stephen, Hoddesdon, United Kingdom

Hilarious
Reviewed on 02 June 2016 by Karen, Middlesbrough, United Kingdom

a nice escape!
Reviewed on 01 June 2016 by Spyros, London, United Kingdom

Clever
Fantastic timing throughout. Nicolas Le Provost was hilarious.
Reviewed on 30 May 2016 by John, Aberdeen, United Kingdom

Hilariously funny
Reviewed on 29 May 2016 by Simon, Much Hadham, United Kingdom

Precise Come-ical Timing
Reviewed on 28 May 2016 by Jonathan, Halifax, United Kingdom

Loved it - laughed all the way to Euston and the Caledonian Sleeper back to Edinburgh overnight Made me sleep better it was so good !!
Stage craft so clever timing perfect characterization so funny I would se it again
Reviewed on 25 May 2016 by Gerry, Edinburgh, United Kingdom

A classic comedy for every adult to enjoy
Excellent script by Alan Ayckbourn matched with 6 professional actors. This play was so enjoyable that I persuaded 2 other friends to see it again based on the cheap price to coax them. They enjoyed it as well. Better still we were upgraded from the Gallery to the Royal Circle so had a much better view !!
Reviewed on 19 May 2016 by Christopher, Bromley, United Kingdom

Appauling
Poor acting and jokes that were simply not funny. Very poor show indeed. Was upgraded as the closed the gallery due to poor attendance. We should have got the hint and left straight away. What a shame.
Reviewed on 14 May 2016 by David, Rowley Regis, United Kingdom

Creative
Elegant/creative how two plots/scenes simultaneously occupied the same stage.
Reviewed on 08 May 2016 by Anthony, Pretoria, South Africa

Humourous and entertaining
Clever, funny, entertaining play with high quality acting.
Reviewed on 07 May 2016 by John, Dover, United Kingdom

Awful
Reviewed on 02 May 2016 by Jean, Rainham, United Kingdom

A lighthearted entertainment
A typical Alan Aykbourn production. Cleverly crafted which required split second timing from the actors to pull it off. Did not always hear what was being said due partly to the male actors' diction and audience noise but sufficiently to appreciate and enjoy what was going on. The ladies were very clearly audible.
Reviewed on 30 April 2016 by Margaret, Alton, United Kingdom

Clever, funny and very enjoyable.
Reviewed on 28 April 2016 by David, Aldbourne, United Kingdom

dated, awful, boring - don't bother
Go around the corner and spend your money on a good show....Comedy about a Bank Robbery - well worth a visit. This play was dated, over acted and so boring that I woke myself up snoring.
Reviewed on 23 April 2016 by Sharron, Wareham, United Kingdom

A must see!
Brilliant cast and acting. Clever plot and staging. Adult humour and keeps you entertained all the way through.
Reviewed on 22 April 2016 by Bhavini, Ashton Under Lyne, United Kingdom

Great Evening
Great show - really funny!! Had a great evening!!!
Reviewed on 20 April 2016 by Tracey, Wirral, United Kingdom

HOW THE OTHER HALF LOVES
We booked this at the very last minute and even though we went for the Gallery seats we had an excellent view and thoroughly enjoyed the show. The cast were brilliant and the set wonderful and we laughed all the way through! A lovely afternoon was spent in lovely surroundings of this theatre.
Reviewed on 20 April 2016 by Gregory, Orpington, United Kingdom

Simply excellent
Well acted and very cleverly directed. Highly recommended.
Reviewed on 17 April 2016 by Christine, Gosport, United Kingdom

Funny clever and gripping!!
Reviewed on 16 April 2016 by Stuart, Biggin Hill, United Kingdom

very funny brillinat timing!
Reviewed on 11 April 2016 by Steve, Ratby, United Kingdom

great acting and wonderful show
Reviewed on 10 April 2016 by Jacqueline, Richmond, United Kingdom

must be seen
we have never watched a play before, but really really enjoyed it. The acting ( only 6 people in it) was incredible, the amount of lines they each had to learn just blew me away.
Reviewed on 09 April 2016 by Joyce, Harwich, United Kingdom

good old fashioned comedy as expected from A.A
Birthday trip for 16 yo grandson...he loved it
Reviewed on 07 April 2016 by Peter, Basingstoke, United Kingdom

How the other half loves
Brilliant! A must see, funny, poignant and fast paced. Would definitely recommend.
Reviewed on 05 April 2016 by Jane, Stockbridge, United Kingdom

Great trip to the theatre
Reviewed on 28 March 2016 by Wayne, Burnham On Crouch, United Kingdom

Humorous and enjoyable.
Reviewed on 27 March 2016 by Anthony, Kent, United Kingdom

Brilliant
Reviewed on 27 March 2016 by Andrew, Glenrothes, United Kingdom

A nice old-fashion farce.
An enjoyable romp, reasonably funny. Good acting and clever staging. Probably rather edgy in its day.
Reviewed on 27 March 2016 by Derek, Tonbridge, United Kingdom

Excellent Show! Must see!
Reviewed on 26 March 2016 by Connor, Leslie, United Kingdom
09

Apr
2016

Review: HOW THE OTHER HALF LOVES at the Haymarket Theatre
by Phil Sealey | Saturday, April 9 2016, 15:48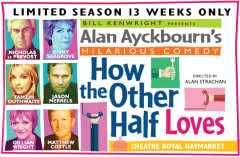 Alan Ayckbourn's HOW THE OTHER HALF LOVES is a very good play. A comedy of manners, we are presented with an upper middle class couple, The Fosters, a lower middle class couple, The Phillips and the Featherstones, a timid couple that sit somewhere in between. Much of the action concerns the interplay of these couples and their social differences in how they deal with their wives and the wives of others when rumours of marital dalliances abound.
Review: HOW THE OTHER HALF LOVES at the Haymarket Theatre