Quick Facts
Largest Ticket Inventory
in the West End
Real time
seat availability
Choose
your seats
Your booking is processed directly into the box office reservation system
This show is now closed.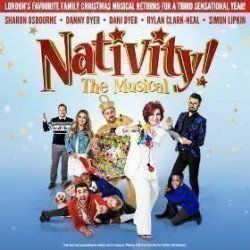 Nativity! The Musical
Tickets
4.7/5
-

based on

25

reviews
Information
Cheap Tickets
Reviews
About Nativity! The Musical
Performance Times
Nativity! The Musical description
This Christmas join the legendary Sharon Osbourne, father and daughter Danny* and Dani Dyer, TV and radio presenter Rylan Clark-Neal* and West End star Simon Lipkin as he reprises his role as 'Mr Poppy' in the hit show. 
Adapted for the stage by Debbie Isitt, the creator of the much-loved films and featuring all of your favourite sing-a-long hits from the movies including Sparkle and Shine, Nazareth, One Night One Moment, She's the Brightest Star and a whole host of new songs, this musical really 'is a heartfelt hit' (The Times).
Every child in every school has one Christmas wish, to star in a Nativity, and at St Bernadette's School they're attempting to mount a musical version! Only trouble is teacher Mr Maddens has promised that a Hollywood producer is coming to see the show to turn it into a film. Join him, his teaching assistant the crazy Mr Poppy, hilarious children and a whole lot of sparkle and shine as they struggle to make everyone's Christmas wish come true.
Back with more performances than ever before, book now for this 'feel-good bonanza' (Daily Telegraph), and join us for some MAYHEM in Bethlehem! 
Last chance to see Nativity! The Musical as the festive family show returns for its final year in London!
*Danny Dyer will not be playing the following performances
Wednesday 11 December, 7pm
Monday 16 December, 1pm
Thursday 19 December, 1.30pm
Thursday 19 December, 7pm
Friday 20 December, 2pm
Thursday 26 December, 2pm
Friday 27 December, 2pm
Friday 27 December, 7pm
*Rylan Clark-Neal will not be playing the following performances
Friday 13 December, 7pm 
Saturday 14 December, 2pm
Saturday 21 December, 2pm
Thursday 26 December, 2pm
Saturday 28 December, 2pm
Nativity! The Musical cheap tickets
We have a great selection of cheap Nativity! The Musical tickets. We can help you save up to 70% on Nativity! The Musical tickets! If you're looking for discount theatre tickets have a look below for our latest offers for Nativity! The Musical at the Hammersmith Apollo (Eventim).
No Booking Fee
Valid selected performances until Dec 2019. Excludes:14-15 Dec & 22-25 Dec 2019.
Nativity! The Musical reviews
4.7 out of 5
based on

25

reviews
What to expect:
Acting
Music
Costumes
Story
Lighting
Recommended for:
Anyone (68%)
Families (100%)
Teenagers (68%)
Couples (68%)
Theatregoers (72%)
Latest customer reviews

Comedy
Great fun musical, the kids we're fantastic
Reviewed on 28 December 2019 by Joanne, Grantham, United Kingdom

Fun show for the family
Whole family loved it. These kind of shows are not about the acting and it made no difference to our enjoyment of it but both the Dyers (Danny and Danni), especially the latter, really were Dyer. Both my wife and I couldn't really see a reason for Danni Dyer even being in it. Don't get us wrong, she's not an actress but it smelt of 'show me the money'. But, as I said, we thoroughly enjoyed it. Our kids loved the films but thought the show was even better. Great day out and have already recommended it to others.
Reviewed on 28 December 2019 by Graham, Aylesford, United Kingdom

Fantastic Show
Wow what a fantastic show. My husband and I took our 13 year old son and we all loved the show. The cast were energetic and the kids in the show were brilliant. Would definitely recommend this show for all ages.
Reviewed on 28 December 2019 by Karen, Worcester Park, United Kingdom

Amazing show, thoroughly enjoyed it
Reviewed on 23 December 2019 by Emma, Bishops Stortford, United Kingdom

A great start to the Christmas festivities
This is a family trip (age no barrier!) Great fun. My only small criticism would be - the headliners of the show didn't add anything - the main cast were fantastic
Reviewed on 17 December 2019 by Rosemary, Ilminster, United Kingdom

Love the films, you will love the musical
Great transformation onto the stage, with all the great songs to make you feel real Christmassy. The children are great especially the girl on the moon. Rylan was a lot better than I thought we was going to be, but my only real criticism is Sharon's acting it a bit cardboard.
Reviewed on 17 December 2019 by Christian, Drayton, United Kingdom

Shame about the celebrities!
The show was excellent, apart from the celebrities whom I thought were very disappointing.
Reviewed on 15 December 2019 by Helen, Kettering, United Kingdom

Wonderful evening
Absolutely fantastic evening we had a great time Simon Lipkin was absolutely fantastic would recommend this show very highly
Reviewed on 14 December 2019 by Ryan, Enfield, United Kingdom

Lovely family show
Lovely Christmas show ! Really enjoyed it for my sons birthday! We was in the circle and could see everything.
Reviewed on 13 December 2019 by Jackie, Dunmow, United Kingdom

Highly recommended
Reviewed on 02 January 2019 by John, Eastbourne, United Kingdom

Colourful, family fun show
My family loved the movie so I took them to see the show, great hit, they loved it.
Reviewed on 01 January 2019 by Adrian, Tonbridge, United Kingdom

Really enjoyable
Reviewed on 01 January 2019 by Jacky, Brigg, United Kingdom

Great afternoon had by all
Went with husband and 12&15 year old. All really enjoyed it. Laughed a lot. Lots of toilets in the venue. Seats were comfortable, although high in the circle, we had a clear view of the stage. Brought via an agent and picked tickets up in venue. Luckily I had identification that was neede but agent hadn't advised me to bring any. So would recommend anyone collecting tickets to have ID with them, just in case.
Reviewed on 01 January 2019 by Joanne, Gillingham, United Kingdom

Funnt
Mr poppy was my favourite he made the show funny
Reviewed on 31 December 2018 by Jordan, Birmingham, United Kingdom

Fun story
The first half lacked something although Mr Poppy was fantastic throughout. It livened up in the second half and ended up quite a fun show.
Reviewed on 30 December 2018 by Sue, Billericay, United Kingdom

Great show pleasure to watch
Reviewed on 28 December 2018 by Bradley, Chingfoed, United Kingdom

Super funny
Enjoyed a family Christmas outing to see the show and wasn't disappointed. Everyone was fantastic! Seating had a great view in the stalls. Definitely worth seeing.
Reviewed on 21 December 2018 by Kerri, Worthing, United Kingdom

Funny, feel good, entertaining
The show was very funny, entertaining, colourful and an all round feel good show. Fun for all the family - actors were brilliant Danny Dyer and Dani Dyer were ace - also Simon Lipton was soooo funny. Kids were superb
Reviewed on 21 December 2018 by Michelle, Worthing, United Kingdom

A Fun Filled Evening
This was a great show. It followed the story of the film very well and with the additional music it made acreage evening. The children were fantastic and a lot of thought had gone into the show.
Reviewed on 31 March 2018 by Roger, Sidcup, United Kingdom

Sparkle and shine
It was fantastic and really got you in the festive spirit. The seats were great.
Reviewed on 19 December 2017 by Claire, South Croydon, United Kingdom

amazing, superb, best family show
Reviewed on 15 December 2017 by Hamid, London, United Kingdom