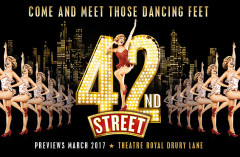 Several big musicals have announced closing dates in the West End after long, critically acclaimed runs. Don't miss out. There's plenty of reasons to hurry to these fantastic shows before they're gone.
10 Reasons to see 42nd Street:
A raft of gloriously old fashioned Broadway songs including the title song and Lullaby of Broadway.
One of the most committed casts in the West End. When I saw it, way after opening night, every performance had the precision of a newly minted production. These guys love what they're doing and it shows.
Spectacular choreography with a full stage of exceptional dancers.
A classic Cinderella story of a down trodden chorus girl who finds herself a Broadway star.
An archetypal opening sequence that'll blow you away when the the curtain slowly rises on a huge line up of tap dancing feet.
This is family entertainment that everyone of all ages can enjoy.
It delivers glorious old fashioned spectacle. With ravishing scenery and costumes. It looks a million dollars.
A laugh-out-loud funny script packed with vintage jokes that still sparkle.
A show with a big heart, it's an irresistible feel good piece in which nice people are rewarded.
You'll leave the theatre feeling great. A perfect tonic to the winter blues!
42nd Street ends its run at the Theatre Royal Haymarket on January 5th.