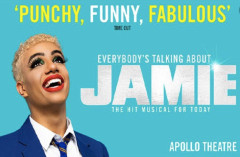 Anyone who doubts that the West End can be a place of fresh ideas should buy themselves tickets for the post-Covid return of the triumphant contemporary musical, EVERYBODY'S TALKING ABOUT JAMIE.
We'll be Talking About Jamie Again this Summer as Reopening Dates are Announced.
The fact that a brand new musical that no one had heard of four years ago could not only compete with big commercial shows before the current health crisis but be popular enough that it'll reopen on 20th May is a miracle.
Although "miracle" is doing those behind it a disservice. From the very beginning it's been brilliantly maintained, promoted and cast ever since it sailed into town on a wave of optimism and great word of mouth from its North of England premiere.
Centred around a teenage boy who wants to wear a dress to his high school prom, it nods to pretty much every up-to-the minute fad and fashion, and celebrates societies new found and hard won respect for fluid gender identity.
Oh, and it's also funny, tuneful, thought provoking and will send you out into the night giddy with hope for the future.
What's the plot of EVERYBODY'S TALKING ABOUT JAMIE?
Teenage Jamie, encouraged by his adoring mother and plucky, best-female-friend, conquers a school bully and an absent antagonistic father to win over a doubting teacher, Miss Hedge. With her support he rises above a mundane working class up-bringing to launch a career as a fabulous drag performer, at the school prom, thanks to the mentoring of older drag queen, Hugo.
Are there any well known songs in EVERYBODY'S TALKING ABOUT JAMIE?
Although two of the numbers were re-recorded and released as singles with a modicum of success you probably won't have heard any of the songs before.
But fear not, you're in safe hands. They're by composer Dan Gillespie Sells (The lead singer of rock group The Feeling) with lyrics by show's writer, Tom MacRae. They're appropriately lively for the school scenes and heart felt for the family moments.
Who are the EVERYBODY'S TALKING ABOUT JAMIE stars and creative team?
Of necessity the young actor playing Jamie must be charismatic, a brilliant actor, singer and dancer and look stunning in a dress! As a result it's made West End stars of the two previously unknown actors who've played the role so far, previously John McCrea, now Layton Williams.
The show has two adult roles which are featured enough to justify celebrity casting and the producers have kept things fresh and in the public eye with a revolving roster of actors and performers they hope you'll have heard of.
When the show reopens it will also see the return of Shane Richie (the TV actor, comedian, television presenter and singer) as older drag queen Hugo.
Everybody's Talking About Jamie is inspired by the 2011 television documentary Jamie: Drag Queen at 16 directed by Jenny Popplewell. It has music by Dan Gillespie Sells book and lyrics by Tom MacRae and was first directed for the stage by Jonathan Butterell.
What do LONDON BOX OFFICE customers say about EVERYBODY'S TALKING ABOUT JAMIE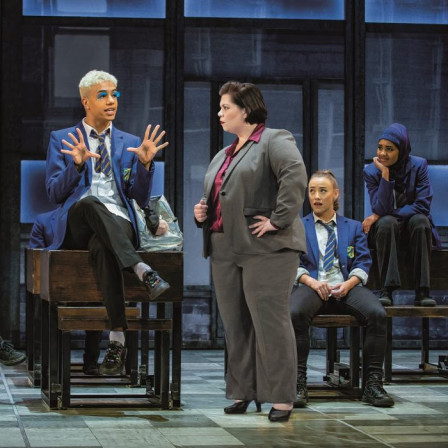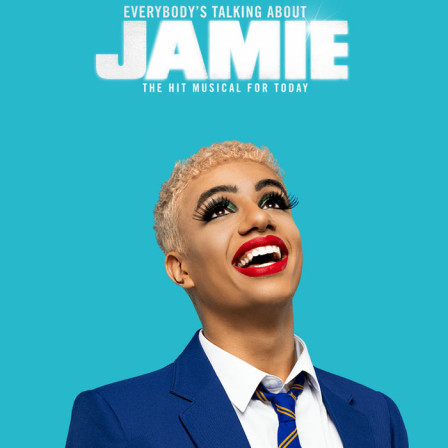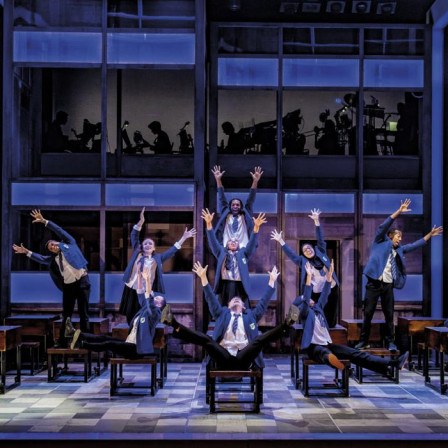 Frequently asked questions about EVERYBODY'S TALKING ABOUT JAMIE
Where and where can I see EVERYBODY'S TALKING ABOUT JAMIE?
Performances resume on May 20th at the Apollo Theatre, on Shaftesbury Avenue, near to Piccadilly Circus and its tube station.
Look down Shaftsbury Avenue from Piccadilly and you'll see a sign with the theatre's logo lit up on your left.
Soho, London, W1D 7DY.
Who is EVERYBODY'S TALKING ABOUT JAMIE for?
I've seen it several times now and have been amazed by the wide range of people who love it, from school kids and their parents to seniors. With some trepidation I once took a party of US. Christians from a Southern Baptist University with the aim of broadening their world view with some LGBT culture. Even they loved it. Both students and teachers.
Is there a dress code?
No, dress comfortably and as you would for any public space.
Fun facts about EVERYBODY'S TALKING ABOUT JAMIE
Not only is the musical an improbable West End hit, but UK National, and Australian tours are about to hit the road again AND there are TWO films, one a straight filming of the stage production, the other fully adapted for the screen and starring Richard E Grant as Hugo. A release date has yet to be announced.