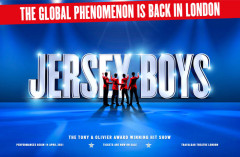 The boys are back in town! One of the most popular West End and Broadway musicals of recent years, JERSEY BOYS will be leading the roll out of returning shows at the Trafalgar Theatre when London emerges from Covid restrictions. It's the story of how a blue collar pop group rose from humble beginnings in New Jersey to become one of the best loved bands in history with one of pop's most iconic sounds.
There's so much to love about this show. You may think you don't know many songs by Frankie Valli and The Four Seasons but you'll soon find out you're wrong. The show's performers belt out hit after hit that you'll recognise. The songs are cleverly assembled into a musical that tells the rags to riches story of how each band member overcame adversity to unite, and achieve international success.
What's the JERSEY BOYS story?
The evening is artfully divided into sections representing the "four seasons" of the pop group's development.
Little was known to the public about the group's history in the 1960s when they came to prominence. There were several reasons for this, the first of course because there was no internet or social media in those days allowing fans instant access into the lives of the band. It's also because the guys had the kinds of unfortunate pasts that could ruin their squeaky clean public personas and jeopardize record sales if the public found out too much about them.
But now all is revealed and you'll learn all about the band members' rivalries, friendships, relationships and the good and bad choices they made on the road to success. What audiences love is the authenticity of the story telling which is a result of extensive interviews with surviving Four Seasons members Gaudio, Frankie Valli and Tommy DeVito.
Music and well-known songs in JERSEY BOYS
The juke box show is packed with the Jersey Boys' hits, including Beggin', Sherry, Walk Like A Man, December, 1963 (Oh What a Night), Big Girls Don't Cry, My Eyes Adored You, Let's Hang On (To What We've Got), Bye Bye Baby, Can't Take My Eyes Off You, Working My Way Back to You, Fallen Angel, Rag Doll and Who Loves You.
The songs are so ubiquitous and so slickly produced on the original records that it's easy to lose the personalities of each band member in the smooth combined power of their harmonies. This musical changes all that and you'll appreciate the classics in a whole new way.
Who are JERSEY BOYS stars and creative team?
The Frankie Valli and the Four Season's brand and songs are the stars here so you're unlikely to see any celebrities in the cast. But the producers have always ensured that the very best talent is assembled as necessary to represent the brilliant original band members.
One of the challenges of the theatre show has always been to find a young performer who can imitate the soaring vocals of Frankie Valli but every time I've seen it each new leading man has been as impressive as the last.
The director is Des McAnuff a two-time Tony Award-winner. His Broadway credits include Ain't Too Proud, Summer, Doctor Zhivago, Jesus Christ Superstar, Guys and Dolls, Aaron Sorkin's The Farnsworth Invention, Jersey Boys (Tony and Olivier Awards: Best Musical), Billy Crystal's 700 Sundays (Tony Award: Best Special Theatrical Event), Dracula the Musical, How to Succeed…, The Who's Tommy (Tony and Olivier Awards: Best Director), A Walk in the Woods, and Big River (Tony Awards: Best Director, Best Musical).
What do LONDON BOX OFFICE customers say about JERSEY BOYS?
"Electric, Entertaining Musical Juggernaut", "Absolutely spectacular performance", "Totally gobsmacked", "A real treat for anyone to enjoy" are just a few of our customers reviews for JERSEY BOYS.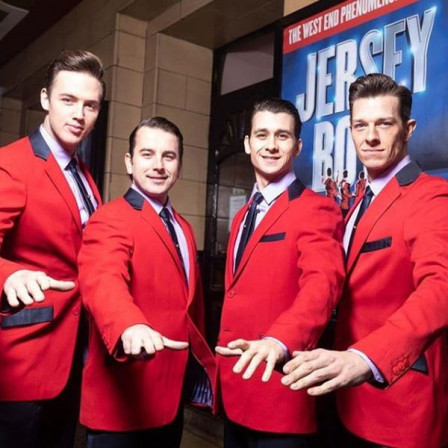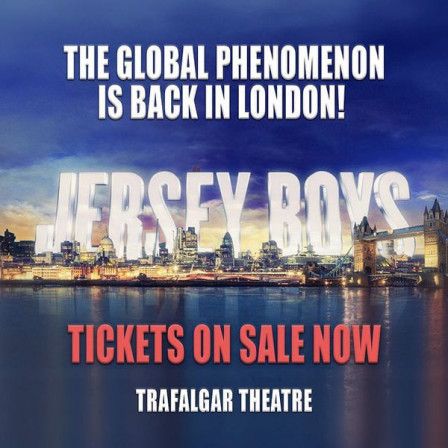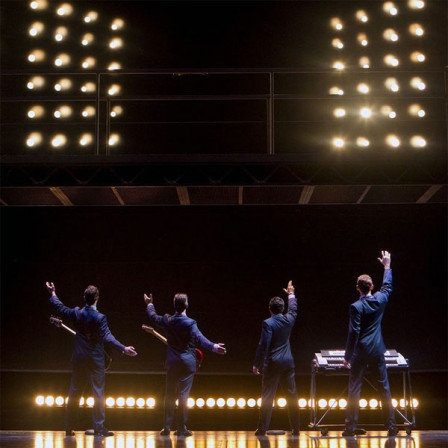 FAQ
Where and when can I see JERSEY BOYS?
JERSEY BOYS will open at the Trafalgar Theatre (formerly known as Trafalgar Studios), on Wednesday 21 April 2021, following previews from 14 April. Tickets are now on sale.
Who is JERSEY BOYS for?
There's lots of strong language in Jersey Boys so it's not for young children or anyone easily offended. However there's nothing too extreme, so the majority of adult audiences will have a great time.
Where is the JERSEY BOYS theatre?
Trafalgar Theatre, 14 Whitehall, London, SW1A 2DY.
The newly refurbished Trafalgar Theatre, is a multi-million pound revamp of the Trafalgar Studios and is located at the intersection between Trafalgar Square and Whitehall. It's seconds away from the Charing Cross Underground and National Rail stations and served by numerous busses.
Is there a dress code for JERSEY BOYS?
No, dress comfortably and as you would for any public space.
Quick facts about JERSEY BOYS
Steven Spielberg has apparently bought the film rights to the Jersey Boys story, but has decided to wait until the musical version is taken off stage before making the story into a movie. But he might have a long wait, since Jersey Boys is still a top selling show across the globe.
Jukebox musicals often place existing songs into an original plot i.e MAMMA MIA and WE WILL ROCK YOU but this is an example of where the writers use the material to tell the story of the band and band members.
But having the different band members perspectives on events didn't always make things easy for the writers. It's claimed that it was only when they finally got DeVito's idiosyncratic version of events that the piece began to take a more vivid theatrical shape. Then, with so many big egos involved it's not surprising to hear that, by mutual consent, the band members absented themselves from the production until opening night.
And that must have been a nail biting evening for all concerned because Gaudio and Valli retained the option to pull the show if they did not like it. But of course they did and the JERSEY BOYS combination of gritty drama and exquisite pop has made it a multi-award winning international smash hit.