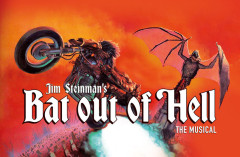 It's been a long time coming but now finally everything's in place and it's been announced that Meatloaf's most theatrical of albums, BAT OF OUT HELL, will be the basis of a new stage musical, to be staged by Obie Award-winning director Jay Scheib.
The music and lyrics were written by Jim Steinman and the songs on the best selling trilogy of albums performed by Meat Loaf have always had a story linking them together.
The Press people are describing this latest, stage, incarnation as a "romantic adventure about rebellious youth and passionate love set against the backdrop of a post-cataclysmic city. Following Strat, who has fallen in love with the daughter of the despotic Falco, this new musical is a high-octane rock'n'roll adventure that tears through over 20 of Steinman songs."
There's an operatic sweep to the rock music, like Wager meets Bruce Bringsteen and both are said to have influenced the songwriter as did TOMMY, the surreal rock musical by the Who which also started life as a concept album.
The most famous BAT OUT OF HELL song, of course, comes from the third part of the trilogy, "I Would Do Anything for Love (But I Won't Do That)" and it's almost impossible to hear it without singing along, releasing your inner rock god and playing air guitar.
There's also the equally rock-operatic "Dead Ringer For Love", "It's All Coming Back to Me Now", "Two Out of Three Ain't Bad" and "You Took the Words Right Outta My Mouth". Song writing of this calibre lead to sales of over 50 million albums, worldwide and the first BAT OUT OF HELL went platinum fourteen times over spending over 485 weeks in the UK Charts. The word classic is over used but in this instance it's true!
Steinman has written a lot for musical theatre over the years. His show DANCE OF THE VAMPIRE which starred Michael Crawford, fresh from his triumph in the title role of PHANTOM OF THE OPERA alas became an infamous Broadway flop although it continues to be a big hit in the German language version which I'm told is far superior.
Other setbacks for Steinman include a futuristic version of PETER PAN which ran into opposition from the J.M. Barrie estate, who control how Peter Pan material is used, and which had to be abandoned at the workshop stage; although I'm also told by an insider that some of this material will be recycled for BAT OUT OF HELL.
In happier times he collaborated with Andrew Lloyd Webber as the lyricist for WHISTLE DOWN THE WIND which contained the song "No Matter What" , later a chart hit for pop Boyzone.
This exciting new production will open at the Manchester Opera House from 17 February 2017 and will transfer to London that summer, playing at the London Coliseum.
These are massive venues but I'm sure fans of the albums, me included, will ensure full houses.