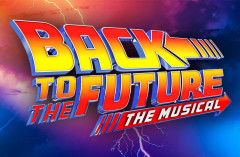 Boy, do we have some exciting news for you! Not only are there new production images to enjoy, there's some brilliant new show footage to enjoy, and the original booking period has been extended thanks to a massive demand for tickets. Back to The Future extends until 3rd July 2022, and it has already attracted a load of 4 and 5 star reviews. Welcome to the magical story that has thrilled millions and is set to delight millions more of us.
Who's involved in Back to The Future The Musical?
We all know and love the story. Young Marty McFly is accidentally zoomed back in time to the year 1955 in a time travelling DeLorean car invented by his friend Dr Emmett Brown. He's desperate to return to 1985 but first he has to make sure his own parents fall in love, otherwise he will never have existed in the first place. Can Marty save his own existence?
Produced by Colin Ingram, Donovan Mannato, Frankel, Viertel/Baruch/Routh Group, Hunter Arnold, Gavin Kalin Productions, Playing Field, Crush Music, CJ ENM, Teresa Tsai, Ivy Herman/Hallee Adelman, Robert L. Hutt, Universal Theatrical Group, Ricardo Marques, Augury, Robert Zemeckis, Bob Gale, in association with Kimberly Magarro, Stage Entertainment, Glass Half Full Productions and Neil Gooding Productions
The original 1985 movie starred Michael J. Fox as Marty McFly and Christopher Lloyd as Dr Brown. It grossed $360.6 million at the box office worldwide. The total box office income for all three films was an astonishing $936.6 million, equating to more than $1.8 billion today
Buy Back to The Future The Musical Tickets
Book your Back to The Future The Musical tickets online with us and choose the best seats with our Adelphi Theatre seating plan. We'll send E-tickets to your email address – simply present them at the door on the day to go back in time with Marty Fly!
About the Adelphi Theatre
The Adelphi Theatre is named after the ancient Greek word for 'siblings' or 'brothers'. More than 200 years old, these days it's a visual feast of Art Deco interiors. Past shows at the Adelphi Theatre include Andrew Lloyd-Webber's Sunset Boulevard and the Phantom of the Opera sequel Love Never Dies. It has also hosted One Man Two Guvnors, Kinky Boots, and Waitress.