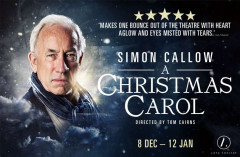 Over the next few weeks, in the run up to Christmas, many theatres will stage an adaptation of Charles Dickens' seasonal ghost story.
There are at least 5 versions of the tale on, in, and around London, this year including at the Old Vic, the Arts Theatre, Chicken Shed, and a concert version of Alan Menkin's musical performed by the London Musical Theatre Orchestra.
Here's 10 reasons why we find the old story so appealing.
The central character of Scrooge is very charismatic. He hates Christmas but we secretly suspect he wants the magic of the season to sweep him up. Easy to relate to. Haven't we all felt like that from time to time?
There are 4 ghosts who help Scrooge appreciate the value of Christmas. Ghosts give us fun chills but none of them is scary enough to unsettle your evening.
Scrooge is asked to consider Christmases past, present and future. For all of us the holiday can be a time to stop work and reflect on where we are in life, and nostalgia for our past Decembers can be as powerful as described as it's described in the story.
You get a real panorama of life in Victorian London as Scrooge's adventures take him into households of every class.
It's often said that Charles Dickens invented Christmas as we know it. Lots of our seasonal traditions began in the Victorian era including the Christmas tree which many people believe was introduced to Britain from Germany by Queen Victoria's husband, Albert.
We also have Dickens to thank for the tradition of making money from the festive season. He was broke and desperate when he wrote a Christmas Carol with the prime intention earning some cash. It worked big time and people have been selling us Christmasy things ever since.
It doesn't deal with religion. The nativity is never mentioned, perhaps surprisingly so, as in Dickens' time it was little more than a day-off to go to church. He made it OK for both believers AND non-believers to enjoy themselves.
It has a nice neat story structure. During the first ghost's visit he announces that Scrooge will be visited by three other spirits so we always know where we are in the story - and how much there is to go!
Family is a big part of a Christmas Carol, Scrooge must reunite with his Nephew and the loveable family of his clerk Bob Cratchet provide an engaging sub plot. Easy to relate to as we anticipate Christmas with our own families. And it's not all rosy cheeks and merriment. All families are touched by tragedy at some time or another which makes a death in the Cratchet family all the more poignant.
Its message is simple. Christmas should be a time when we feel goodwill to all, reconnect with loved ones and should help the poor. No one can quarrel with that!
A Christmas Carol with Simon Callow A Christmas Carol - Lyceum Theatre A Christmas Carol - The Old Vic