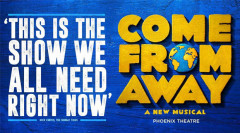 Update for Come From Away at the Phoenix Theatre
The multi award-winning musical smash hit Come From Away is getting ready to welcome audiences back to the West End's Phoenix Theatre, and we've just heard about two exciting new London cast members. Now the full Come From Away UK cast is complete, and the line-up is looking brilliant! If you want to find out what happened when, during the 9/11 attack, flights were diverted to a small town where they caused an unexpected outbreak of human warmth, this one's for you.
Who's involved in Come From Away?
This is the deserving winner of every major Best Musical award. It delighted West End from March 2019 to when the first UK covid lockdown struck. It's the true tale of seven thousand air passengers stranded in the aftermath of 9/11 and the small Newfoundland town that welcomed them in. Cultures may have clashed, but gratitude swiftly grew into enduring friendships.
The rest of the cast members play one or two key members of the story each, plus 'others':
Jenna Boyd plays Beulah and others
James Doherty plays Claude and others
Mary Doherty plays Bonnie and others
Mark Dugdale plays Kevin T/Garth and others
Alice Fearn plays Beverley/Annette and others
Kate Graham plays Diane and others
Alasdair Harvey plays Nick/Doug and others
Jonathan Andrew Hume plays Kevin J/Ali and others
Harry Morrison plays Oz and others
Emma Salvo plays Janice and others
They're joined by Chiara Baronti, Ricardo Castro, Stuart Hickey, Sorelle Marsh, Alexander McMorran, Micha Richardson, Jennifer Tierney and Matthew Whennell-Clark
Buy Come From Away Tickets
Book your Come From Away tickets online with us and choose your favourite seats thanks to our Phoenix Theatre seating plan. We'll send E-tickets to your email address – all you do is present them at the door on the day of the performance.
About the Phoenix Theatre
Originally built on the site of a former factory and the Alcazar music hall and opened in 1930, you'll find the Phoenix Theatre in the London Borough of Camden on Charing Cross Road. It has two entrances, one on Phoenix Street and the other on Charing Cross Road itself. Past shows at the Phoenix Theatre include Bend It Like Beckham, Gary Barlow and Tim Firths' musical The Girls, and Chicago The Musical.